God with us
You may have seen the controversy about the High Street chain Greggs, and their Advent Calendar. Each day in the 'Merry Greggsmas' calendar there is a token to redeem at the shop. The bakers released a promotional image for its festive calendar that shows a part eaten sausage roll replacing the baby Jesus in the manger surrounded by the Three Wise Men. Not surprisingly they have had to apologise for the 'bad taste'. At least it makes a change from the usual chocolate Advent calendar.
But what is Advent all about? Is it just a countdown to the big day, reminding us how much time is left to get everything done, with little sweeteners on the way to keep us going?
I'd like to suggest a few ways that might help to make these next few weeks special.
The Church of England has produced a campaign called #GodWithUs - Your Christmas Journey. Archbishop Justin Welby says in his introduction to the reflective guide "The constant refrain of Christmas, in carols and readings, is that God is with us. In whatever situations you find yourself this Christmas, God is with you - you need only turn to him and ask to know his presence".
Your Christmas Journey is a series of short reflections throughout December and into early January 2018, which people can receive as texts, emails, on social media, or you can get a good old fashioned booklet! The reflections have been written as soul food for people who are new to faith, but also help us all grow in our love of God.
The Bible Society has also launched its #AdventChallenge. If you sign up through the Bible Society website, each day of Advent they will email you a choice of three challenges to help you bring the Bible to life in a practical way, alongside a short reflection following the characters of the Nativity story on their journey to Bethlehem. The challenges vary from giving flowers, encouraging someone, getting to know your neighbours better, making a donation to a foodbank, tidying a shared living space, to leaving a note for your refuse collector. You choose which challenges are appropriate for you to accept.
If you would benefit from meeting with others to discuss an aspect of Advent, we have a number of Advent study groups meeting in December.
In groups meeting on Monday and Wednesday evenings, we'll be looking at the classic Frank Capra film It's a Wonderful Life. Just as Christmas can promise so much and then deliver so little, our own lives can seem bittersweet when we consider dreams we may have had that never worked out. George Bailey, played by James Stewart, discovers that it is never too late to re-evaluate our lives, to find much to be thankful for, and to live again. It's a story of hope, of seeing the best in people, and how we can make the world a better place.
In a group, which is meeting on Monday mornings, people are reading Jane Williams' book Approaching Christmas. This is a beautiful and thoughtful companion to the season of Advent and Christmas, and encourages readers to explore the true meaning of the festive season through a combination of reflections, quotations and classic art. The chapters focus on objects and activities we all associate with Christmas - such as making lists, decorations, gifts, Christmas trees, music, food and family - as well as special days such as Christmas Eve and Epiphany. In each section, Jane Williams brings together her own personal experience, Christmas traditions, spiritual reflection and quotations from scripture and other writings through the ages. The result is an imaginative and stimulating exploration of the riches of this season - all laced with beautiful reproductions of Christmas-themed paintings.
If you would like more information about any of these, please let me know. I do wish you and your family a holy and joyful Christmas when it comes!
with Love and Prayers
Tim
---
Thought for November 2017: A Dementia Friendly Community
More and more of us are learning first-hand what it is like to have someone we care for, who is suffering with dementia. There are currently around 850,000 living with the condition in the country. As we live longer this number is set to grow. There are a variety of forms the disease takes and it can slowly strip someone of their identity and anchors. It is a cruel illness, often hard to live with, and can easily lead to both sufferer and carer being ignored or isolated from community and family.
We recently held a workshop at Shipham to learn more. The evening was led for us by Revd Helena McKinnon, who works with St Monica's Trust in Bristol and, as we learned, has huge reserves of experience and understanding, love and care. St Monica's motto is "Tempus Fugit, Caritas Manet" - time may have flown, but the love will always remain.
Sadly it is all too easy to write people off as having 'lost it'. We were challenged and encouraged to see how a person travelling down the dementia road is no less valued or loved by God, and continues to bear and reflect the image of God. They deserve dignity and inclusion as much as anyone.
Helena gave us the picture of dementia as a bookcase. Every shelf represents a different time period of life, each holding memories for that time. The bottom shelf is childhood and possibly very young adulthood, gradually working upwards towards the present. As time moves on the bookcase gets moved and the shelves begin to weaken over time. It gets dusty and mixed up; things start to fall off the shelves and get put back in the wrong place. The shelves themselves lose their shape or fall altogether.
Often the only shelf to remain relatively intact is that bottom shelf, with emotional memories of the first period of life. This is why we often seem at odds with those we know suffering from dementia and why they may seem to not know who we are for the best part. She gave us bags of ideas about how we can engage emotional memories through familiar sights, sounds and smells, how we can improve a quality of life.
Helena finished the evening with this moving version of the Beatitudes by Esther Mary Walker:
Beatitudes for Friends of the Aged

Blessed are they who understand
My faltering steps and shaking hand.

Blessed are they who know that my ears today
Must strain to catch the words they say.

Blessed are they who seem to know
That my eyes are dim and my reactions slow.

Blessed are they that look away
When my coffee gets spilled during the day.

Blessed are they with a cheery smile
Who stop to chat with me for a while.

Blessed are they who never say
"You've told that story twice today."

Blessed are they who know the ways
To bring back lovely yesterdays.

Blessed are they who make it known
That I'm loved, respected and not alone.

Blessed are they who know the loss
Of strength I need to bear the cross.

Blessed are they who ease the days
Of my journey home in loving ways.
If you would like to discuss any of this further, please just ask.
---
Thought for October 2017: Revolution!
At Axbridge School we always love to sing with gusto and high spirits:
O Lord, all the world belongs to you
and you are always making all things new.
What is wrong, you forgive,
and the new life you give
is what's turning the world upside down.
The next few weeks will see two anniversaries of revolutions in European history that turned the world upside down.
In 1917 the war was going badly for the Russians. The army was on its knees. The previous winter had been severe and food was in short supply and prices were rising. The government was in disarray, and the ruling class remote. This catalogue of problems triggered riots on the streets of the capital Petrograd, with the crowds demanding bread and peace. The February and October Revolutions of that year were to have consequences that continue to shape Europe.
This month also marks another important anniversary. Five hundred years ago, on 31st October 1517, a different kind revolution was triggered by the protest of a monk, Martin Luther. Luther is said to have nailed a piece of paper to the door of his local church in Wittenberg, cataloguing his concerns about the church of his day, and inviting people to respond to his 95 theses.
He had become convinced that the church was corrupt and had lost sight of some of the central truths of Christianity. The most important for Luther was the idea of justification. His view was that salvation is a gift of God's grace, attainable only through faith; sola fide was his mantra. God's forgiveness was not for sale.
Reaction quickly gathered momentum and the Reformation had begun. Over the next few years the face of the church changed radically across many German states and other countries of Europe. In England a small group started to meet in Cambridge to study Luther's ideas, along with other writings, and the Church of England as we know it was emerging.
One of Martin Luther's key hopes was to place the Bible into the hands of ordinary Christians. He translated it from Latin, the language of scholars and clergy, into a German which people could read and understand. His New Testament was published in 1522 and the whole Bible in 1534.
Luther also enthused about music as the greatest gift of God after religion itself. "Next to the Word of God, the noble art of music is the greatest treasure in the world," he said. "Beautiful music is the art of the prophets that can calm the agitations of the soul; it is one of the most magnificent and delightful presents God has given us." He preserved much of the beautiful sound of Catholic worship, but he also inaugurated strong, simple melodies that could be sung by the entire congregation. Johann Sebastian Bach wrote much glorious music for the reformed church around this time. (The importance of Reformation music has been recognised in this year's Promenade concerts.)
Look out for two 500th anniversary events taking place locally this month, for which tickets are now available. St Cuthbert's, Wells, is hosting 'A Monk's Tale', which promises the 95 theses in 59 minutes on 5 October. It is a play that has been touring the country, including the Edinburgh Fringe, and is billed as light, accessible and funny, using sketches and songs to explain the theological disputes of the period. It promises to put the wit into Wittenberg. If you're not sure that this strikes the right tone, Luther himself said, "If I'm not allowed to laugh in heaven, I don't want to go there".
Then the Bishop of Kensington, Graham Tomlin, will be speaking at the Bishop's Palace as part of the Wells Festival of Literature on 20th October on his book 'Luther and his World'. Luther, he says, has all sorts of insights to offer into contemporary issues such as sex, freedom, prayer and evil.
I'll finish with a favourite Lutheran saying:
Even if I knew that the world were to collapse tomorrow, I would still plant my apple tree today
---
Thought for September 2017: Can you smell Heaven?
This was written at great speed, so forgive me if it is more incoherent than usual.
So, when you walk your dog in the early morning you often get a preview of the coming season well before it actually arrives. Later in the day this is lost, but early, there it is. Recently I've noticed the scent of autumn as we trudge through the sodden fields and sure enough the blackberries are ripening. At home the first Christmas catalogue arrived well before the geese are due to come honking over the reservoir.
This summer is fading, maybe next year's will be better. But what is different this time is that I don't know if I or my little dog will be around to see it.
We've both got serious illnesses. We're both medicated to the eyeballs to delay the inevitable outcome and we're both enjoying life, if somewhat slowly. But I do wonder when the swallows swoop overhead if I will see them when they return. And then it gets interesting. Where we're going, do they have swallows? Where will we be? (Please note the "we", a minor detail like death is not going to separate us. And the present Pope agrees, he's well named Francis.) And wherever it is, will it be very different?
I am not enamoured of the City of God, the New Jerusalem, as depicted in the Book of Revelation. I was relieved to learn it is not a preview of a post-retirement brochure, but based on the First Temple. Casting my crown (if I get one) before me across the glassy sea towards the Throne doesn't attract like throwing tennis balls for my dogs in a summer meadow. It used to worry me as a child that Heaven was said to be such a wonderful place but sounded far from it. So I was even more relieved to learn that all our ideas, however inspired, from however Divine the source, all of them are filtered through us to us. Even if you are a serious Saint.
What this means I think, is that we need to remember that we simply can't imagine whatever lies ahead, which, like the concept of God, is really unimaginable. This is wonderful because my imagination may be vivid, but it is also limited. I can't jump out of my skin. There is a lot more to life, eternity and everything else than I can manage to dream up. If I'm regularly astonished by the images that turn up on my computer, it's a safe bet that Heaven is going to knock me into a cocked hat.
Heaven has rather taken the place of sex as a subject for Christians (and others) to feel embarrassed about. Not to be talked about in case we're shown to be immature or gullible or uncaring about the many present day needs that must be met. Heaven is, I think a very mature subject when you think about it properly, not just walking about in nightshirts, clutching harps, up to our ankles in clouds. Gullible isn't likely for people who live in today's world and do care about the many present day needs. And try to meet them, which most churchgoers do, one way or another.
Dying likewise tends to get ignored in polite society - which is silly because it is the one thing all of us actually have in common. I'm not sure when I'm going to do it but it will be relatively soon and I fully expect the first person I see to be Mum. And not clutching a harp.
I don't know if you can smell Heaven before it arrives, as you can the seasons, but if I do I won't keep it a secret. I hope it smells of grass and also many other things that at present I simply can't imagine. I can't jump out of my skin. Yet.
with Love and Prayers
Sue
---
Thought for August 2017: One More Step
I've just finished my round of Leavers' services for our First Schools with what seems like the obligatory rendition of Sydney Carter's hymn "One more step along the world I go". There were a number of tears in the services, mostly from parents, but in truth it is a big step on the journey, both for children, and their parents. My oldest grandson, in a different school system, is leaving his junior school to go on to senior school in September. It feels more like a big leap, exciting and a bit scary at the same time.
As I was preparing for the services, I was reminded of a moment, exactly 48 years before on 20 July 1969, when the world seemed to be glued to their television screens. It was a small, flickering, black and white picture back in those days. Together with the rest of the world, I was mesmerised by the Apollo 11 mission as the small space craft landed on the surface of the moon. For a while we held our breath and then heard Neil Armstrong say, "Houston, the Eagle has landed".
Soon Armstrong climbed down the steps of the lunar module and uttered those immortal words, "That's one small step for a man, one giant leap for mankind." It felt like science fiction coming to life.
Buzz Aldrin, who followed him on the moon walk, remembers the experience. "When Neil and I stood on the desolate, barren, yet beautiful, Sea of Tranquillity, looking back at our brilliant blue planet Earth suspended in the darkness of space, I realized that even though we were farther away from Earth than two humans had ever been, we were not alone. Virtually the entire world took that memorable journey with us."
Sydney Carter's hymn reminds us of the Christian belief that God goes with us on the steps of our journeys, whether they are big or small. We are not alone. The hymn is also a prayer: keep me travelling along with you.
There was a third member of the Apollo 11 crew, Michael Collins, who was a vital part of the mission. He remained in the command module Columbia and spent the day orbiting the moon. In his autobiography he wrote how during the 48 minutes of each orbit that he was out of radio contact with Earth, the feeling he reported was not loneliness, but rather "awareness, anticipation, satisfaction, confidence, almost exultation".
Several thousand years before the space programme, the Psalmist, looking in the opposite direction from earth to the moon, wrote:
When I look at your heavens, the work of your fingers, the moon and the stars that you have established; what are human beings that you are mindful of them, mere mortals that you care for them?
Before Armstrong and Aldrin stepped out onto the moon, Aldrin asked, "I would like to request a few moments of silence … and to invite each person listening in, wherever and whomever they may be, to pause for a moment and contemplate the events of the past few hours, and to give thanks in his or her own way."
Hopefully August will give us chance to do the same; to stop and pause and reflect on our journey, and the steps that lie in front of us.
---
Thought for July 2017: A Contrast of Moods
Saturday 17 June was a day for basking in the glorious sunshine. There was a happy and record crowd at the garden of Rowberrow Manor, enjoying a traditional English village fête, together with a collection of magnificent cars. I'm in awe that such a tiny hamlet can put together an occasion like this. So too at the Axbridge Celebration Day, many people were enjoying themselves on one of those occasions when the Square comes alive in a very special way.
All of this was in sharp contrast to the overall feeling in much of the rest of the nation. In the Queen's Birthday message, she described a very sombre national mood. In the past two or three weeks, the country has reeled from a succession of terrible events.
After the terrorist attacks in Manchester and London Bridge and Borough Market, the Archbishop of Canterbury offered this reflection:
'The strongest power in the world is the love of Jesus Christ. It is more powerful than the evil of terror and all the profound wickedness of the terrorist. It is invisible to most rulers. It is unheard of by most communicators. It has no Twitter account. It does not show up on Facebook but has overcome more nations than the greatest of armies. It has changed more lives than the finest orators and communicators. It has drawn more people into true community than all the social media there is, has been, or ever could be. It breaks down barriers between races, it tears down the frontiers between nations, it overcomes the oppressions between genders, and classes, and capacity, and wealth, and education. It is this love which daily transforms my life, our lives, all those who follow Jesus Christ, and the lives of many millions around the world. And we need the difference that Jesus makes. We need the order brought out of chaos. We need the knowledge of an eternal purpose for each of us. We need to know that whatever other people do to us, God loves us forever.'
Sadly someone, though, did feel the need to retaliate from those acts of terror, and deliberately drove into a group of people coming out of late night prayers in the mosque in Finsbury Park, an act which can only perpetuate the terror. This tit-for-tat kind of action is fuel for further unrest in our community.
As if that wasn't enough to cope with, we witnessed the dreadful pictures of the fire in Grenfell Tower in London. The immediate mood was of shock and horror. But the shock quickly turned to frustration as survivors and relatives tried to find information about loved ones, or what was going to happen next, and then to anger at why the fire spread so quickly. "There are an awful lot of angry people and it's easy to understand why," one person said.
There were also heart-warming stories coming out of West London. The extraordinary and courageous work of the emergency services was seen in sharp focus. There were also the spontaneous responses of the local community and beyond to people's basic needs. Help came from all quarters, and from all creeds and none, including the local churches. At one Methodist Church, which was used as a collection point for practical support, a leader said, "the volume of items has been sensational.
"The community effort has been spellbinding. We are used to coming together once a year for the Notting Hill carnival, but no one wanted to do so under these circumstances."
I wonder what July will bring…?
For me some of the very special July moments are the Leavers' services at our two First schools, as children reflect on what they have learnt in their first five years of formal education, and the building blocks, which they have in place for their next stage and all that is to follow.
I pray that we may learn from the lessons of the past month's events, good and bad, and invest our energies in building relationships, and in responding with love.
---
Thought for June 2017: Thy Kingdom Come
June is a big month, nationally, domestically and locally. We have the General Election on the 8th, my Dad's 90th birthday on the 12th, and the Rowberrow Fête on the 17th! What a mixed bag?!
But before we get to any of these, we are challenged to pray 'Thy Kingdom Come'. Between Ascension and Pentecost, (25 May - 4 June), Churches and Christians across England, including the Cheddar Valley, will be coming together to pray.
We will be remembering how the first disciples waited after Jesus' Ascension and prayed together for God's Spirit to come, not sure what would happen next. We pray for the same Holy Spirit that filled them on Pentecost to fill us today. As we wait we pray to be more open to receiving the Holy Spirit - and more capable of showing the grace of God in all that we are and do. Prayer is the place where change begins.
'To pray Thy Kingdom Come is to pray for a shift in the world around us.
It is to yearn for things to be different.
To imagine transparency in a culture of fake news.
To find compassion in a society that resorts so readily to shame and blame.
To long for grace, mercy and peace in an anxious and fearful world.' (Ian Adams)
During these days we will be offering a range of opportunities to join in prayer. Amongst other things, Shipham and Axbridge churches will be open for people to drop in during the day, as they are almost every day of the year. Prayer installations will give ideas of how to experience prayer using touch, sight, sound, silence, light and darkness. We can pray for particular people and situations, or we can just come and be still.
For the more energetic, the local Churches of all denominations are organising a pilgrimage, a prayer walk from Cheddar to the Wells at the Bishops Palace, the site of early worship in this area. This will be on Saturday 3 June, leaving Cheddar Baptist Church at 8:45am. It's a glorious walk of about twelve and a half miles, and incorporates some of the West Mendip Way. Please ask if you would like more information about that – or if you would like to sign up for some or all of the walk.
"Some days I find that prayer comes easily. On others, it's a struggle. But I'm always mindful that prayer is not just another thing we do. It's the breath that sustains us." These could be my words; in fact they are the words of Justin Welby.
In prayer we can talk with God, be silent with God - or just express our longing for him. I hope that during this time we might rediscover that our conversation, our attention, our praise, our company is a sheer delight to God.
Mark Wahlberg, star of a wide range of movies from Deepwater Horizon and the 2003 version of The Italian Job and Ted, is quoted as saying, 'If I can start my day out by saying my prayers and getting myself focused, then I know I'm doing the right thing. That ten minutes helps me in every way throughout the day'.
So we pray for nothing less than the transformation of ourselves and our world as we say 'Thy Kingdom Come'.
---
Thought for May 2017: Good Friday?
Coming out of Rowberrow Church after our meditation at the foot of the cross on Good Friday, someone posed the question I guess most of us have asked. "What makes it 'Good' Friday?" What is good about an event so dark and bleak, and so full of suffering?
The news had added a particularly sombre note to our journey through Holy Week. On Palm Sunday there had been brutal attacks on two Coptic churches in Egypt, there was rising tension with North Korea, the so-called 'mother of all bombs' had been dropped in Afghanistan, and many parts of the world seemed to be more unstable than ever. What was there to celebrate? What hope was there to offer to a world teetering on the brink of escalating conflict and division? We don't exactly seem to have learnt much since that first Good Friday.
I was able to give the person a poem by Cheryl Lawrie, which I find helpful.
They call today Good Friday
But what could make this day good?
If you have ever believed that love inevitably leads to betrayal,
this day says it doesn't.
If you have ever believed that some people are unlovable, irredeemable,
this day says they aren't.
If you have ever believed that there is a limit to forgiveness,
this day says there isn't.
If you have ever believed you aren't worth saving,
this day says you are.
If you have ever believed that you don't deserve freedom,
this day says you do.
If you have ever believed that fear, anger, hate and despair will always win,
this day says it won't.
This day is good for you.
Good Friday and Easter Day go hand in hand as we celebrate what Christians believe to be the most momentous weekend, a turning point in human history. As Rowan Williams put it, 'it is the calling of the church to testify to this event as the event of history, the second big bang.' Or as someone else said, 'to find the sun rising in the west would be less of a change than occurred in the resurrection'.
Jesus didn't just happen to be in Jerusalem on that Palm Sunday. He went to Jerusalem for a reason. To send a message that not even the titanic powers of death can stop the love of God. God's self-offering love was demonstrated on the cross. On the first Easter morning, he rose from the dead, and proclaimed love wins. The words he gave his friends on that day come through the centuries to us afresh: 'Do not be afraid'. The things that overshadow our lives with fear, whether they are our own domestic worries or the concerns we have over events across the world, do not have the last word. In the hard journeys we all face, the risen Lord comes alongside and, with love and gentleness, brings restoration and hope.
Over the next few weeks I'm looking forward to singing a hymn to the tune of Danny Boy, with words written by June Boyce-Tillman:
We shall go out with hope of resurrection,
We shall go out, from strength to strength go on,
We shall go out, and tell our stories boldly,
Tales of a love that will not let us go.
We'll sing our songs of wrongs that can be righted,
We'll dream our dream of hurts that can be healed,
We'll weave a cloth of all the world united,
Within the vision of a Christ who sets us free.
I'm hoping to start up a group which explores some of these fundamental Christian truths. If you are interested in finding out more, possibly with a view to being confirmed, please let me know.
In this Easter season, may we be people of the Resurrection, unashamed to love, and unashamed to follow Jesus.
Happy Easter!
---
Thought for April 2017: Living Water?
I was sitting next to someone from Rowberrow at the Men's Breakfast yesterday and hearing that they had no water at their cottage that morning. Apparently there had been a burst main affecting parts of Rowberrow, Winscombe and Churchill. Hopefully that will soon be sorted, if it hasn't already.
I guess that all of us over recent weeks have been watching the gradual march of the new blue pipeline that is being laid along the Axbridge bypass. This is part of a new £27 million water infrastructure project that will secure the supply to 280,000 people across Somerset as 30km of water main is being installed between Cheddar and Barrow Gurney. Bristol Water promise that we will have a much more secure water supply once the scheme is complete.
The disruption in traffic with the temporary lights hasn't been quite as bad as some had feared, other than one spectacular day when everything ground to a halt. Perhaps, though, waiting for the lights to change has given us the opportunity to reflect on the significance of water.
While we complain about the minor blips in our supply, we hear of the devastating effect of the famine in large parts of central Africa. On one news report we were told that in part of Somalia there had been no rain for three years.
Pure, flowing water gushes from our taps, but in many parts water is a scarce commodity. People, particularly women, have to go and collect it from the nearest well. When it comes from a river it is often stagnant. Instead of being life-giving, it carries deadly water-borne diseases and needs to be boiled before use. Over one billion people in our world have no access to clean water.
In stark contrast, work is in progress at the moment in the Church Rooms at Axbridge, and one of the stipulations is that we have to fit no less than three sinks into the small kitchen for hygiene purposes.
The need for a good and clean water supply was part of daily life in Biblical times too. When the people of the Exodus were wandering in the desert, their leaders were faced with the reasonable question, 'Why did you bring us here?' The wilderness was a place of harsh extremes. They had been better off as slaves in Egypt. At least they had food and water; but in this desolated place they were parched, had no energy, and some had given up the will to live.
In John's Gospel we read how Jesus met a woman from Samaria at a well. It was a hot day and Jesus was tired and thirsty from his travels. She had a bucket and he didn't. "Please can I have a drink?" he asked. It was a straightforward request.
Laying aside the whole scandal of the conversation taking place at all, let alone him asking her for a drink and sharing her bucket, which is lost on us, the conversation quickly turned to the woman's deepest needs. In John's writing there are different layers. On the surface there was the thirst, the well and the bucket. Then there was the deeper issue of what lay underneath.
The Samaritan woman was no stranger to thirst. That's why she was at the well, but it also turned out that she was living with a partner, and had been married five times before. Here was a person who was thirsty for a lasting, stable relationship.
Jean Vanier, the founder of the L'Arche Communities, reflects on the incident, and how Jesus met and welcomed this fragile, broken woman. He didn't judge or condemn her. He wasn't condescending. Instead he approached her as a tired and thirsty beggar, asking her to do something for him. As they sat by the well, sipping the refreshing drink, Jesus told her about a spring of living water, and of a holy spirit that could quench her deepest needs, and ours. "Sir," she said, "give me this water, so that I may never be thirsty."
---
Thought for March 2017: An Inclusive Church?
At our last Deanery Synod we were exploring why churches are difficult to get into. Sometimes the reasons are obvious and visible. At Axbridge a group is beavering away at how we make our glorious medieval building more easily accessible to those who find steps a problem. Finding a way of achieving this and getting the appropriate planning permission from the local authority and diocese takes a lot of time and patience, but we are determined to get it done!
Churches have a legal responsibility to ensure that their buildings are safe and accessible – but inclusion for those living with disability is something that goes far beyond installing ramps and toilets. Many of the things that exclude people are not visible. Deafness, depression, dementia, or simply just by being different are just a few of the various ways which may exclude people. Sadly many have felt and been rejected by the church simply because of who they are.
One of the exercises we did at Deanery synod was to complete the statement 'Inclusion is…'
Here are a few possible answers. Inclusion is… 'believing that God loves everybody'
'…valuing difference and seeing people as God does'
'…taking time & thought to understand where others are coming from'
'…the freedom to be yourself - who God made you to be'
'…Christ-like'.
Michael Curry, the Presiding Bishop of the American Episcopal Church, said "our commitment to be an inclusive church is not based on a social theory or capitulation to the ways of the culture, but on our belief that the outstretched arms of Jesus on the cross are a sign of the very love of God reaching out to us all."
Tim Hind's brief note from General Synod in February (also on page 15 of Catch this) reminds us that someone's sexuality can also exclude. The Church continues to wrestle with this issue.
Sam Wells, the Vicar of St Martin's in the Fields, London, speaks of his cousin whose disability put him on the edge but who learned to make the edge his home. 'When Tim was four years old his parents were told Tim was autistic. The consultant didn't mince words. "You must bring him up like a dog", he told my aunt, stressing the need for clear instructions and boundaries, the need to bridle the boy's volatile frustration. The family understood that Tim was going to be a problem. His mother shaped his character carefully. For all the bleak prognostications, Tim found areas of life where he flourished. He played the piano. He sang, growing into a deep bass. He appreciated music so much that he could become ecstatic on hearing a Mozart concerto. He appreciated routine, and before she died, my aunt ensured that he would find a regular place volunteering at a local care home, doing odd jobs and gardening. He died suddenly, aged 46.
At his funeral there were the usual seats left for his brothers, their families, and for the extensive wider family. The seats for the wider family were mostly empty. They had always found Tim hard to relate to; they could not pretend they really knew him and they stayed away. But behind those rows of empty seats, the rest of the church was overflowing with people. And as the service proceeded, one story after another was told that explained why. One woman recalled how, new to faith, for her first six months she didn't participate in the hymns but simply watched Tim's face as he sang with the choir: he was so enraptured – she wanted to be like him. Everyone realised that, had it been their own funeral, the church would have been much less full. Tim's life had begun with being thought of as a dog. But at his funeral it was abundantly clear how God had chosen what is foolish in the world to shame the wise, and what is weak in the world to shame the strong. Tim's life ended with him eating not just the scraps from the master's table but sharing the whole banquet, for evermore.'
If the Deanery Synod taught me anything it was that we need to have our eyes and our hearts open if we are to become more of an inclusive church. Perhaps we should be looking to see that inclusion is celebration not mere acceptance.
---
Thought for February 2017: The Army of Volunteers
One of the things I am very conscious of as a vicar, (or Rector; call me what you will!), is the vast amount that is is done by all sorts of willing people. What seems like a whole army of people offer their skills to enrich our churches and communities and get on with making sure that jobs that need to be done are done. By and large I'm the only one who is paid for doing what I do. The rest of you do it voluntarily, out of love. Although paid, I hope that I do it at least with love too…!
As we begin a new year, I am more conscious of these voluntary contributions than ever. A number of people are retiring from jobs that they have done for years, and I would like to mark my appreciation of the part they have played in our Benefice.
In Shipham we see the retirement of Jill Lewis and Sally Herring, who in recent years have looked after Lenny's Community Café, managing the staff rota and making sure it was ready to open for visitors from the village and beyond. It looks like a group of people have taken up the reins and will 'give it a go' starting up on 20 February, exactly 20 years after Lenny's was first launched (see page 7 of the February Catch this).
Paul Ashmore has been Treasurer of St Leonard's for fifteen years, and this is work that involves hours of careful management of church finances, painstakingly accounting for every last bean. He estimates that he has written something in the order of 1,500 cheques since he took over from John Griffin in 2002. He is currently sorting out his last set of annual accounts, and hands them on in a healthy state.
Roger Hughes has looked after the distribution of Catch this in Shipham for more than ten years, making sure that as far as possible people had their copy while the print was still drying! (That was in the days before some of you received it electronically!) For much of the time he was also involved in printing the magazines.
In Axbridge Janet Angle has been the Sacristan, looking after the setting up of the church for Communion services for the last eight years, which involves making sure the sanctuary is spotless, the altar colours are changed regularly, the linen is cared for immaculately, and supplies are ordered when needed. All this has been done with great devotion, and for this we are most grateful.
At Christmas we also expressed our gratitude to Martin Latham, who retired from his post as organist and choir master after 49 years. He certainly went out with some splendid music over the Christmas period (see page 5 of Catch this for Andy Goddard's report). During that time he has maintained an extraordinary level of skill and enthusiasm, producing music of a very high standard, and deeply enriching the liturgical life of Axbridge Church. There are adverts out to invite someone to apply for this post, but in the meantime a number of very talented musicians from within the community have offered to hold the fort.
We are also very conscious that making music was just a part of what Martin has done. Behind the scenes he has been involved in caring for the church building, making sure the heating comes on when it's needed, overseeing the church office and a hundred and one other things!
We mark our sincere thanks to each and every one of these people. You could be forgiven for barely noticing some of these contributions, so quietly and efficiently have they been made. You can be sure, though, that we will notice, because it will be a bit different. We each bring our own particular gifts to what we do, but these examples of service inspire me, and hopefully us all, to offer the very best we can. As the Good Book says, Whatever you do, work at it with all your heart, as working for the Lord, not for human masters. It is the Lord Christ you are serving.
---
Thought for December 2016: What does Christmas mean to you?
The Archbishop of Canterbury tells of a Carol Service he was taking. Interspersed between the familiar carols, he had invited a number of people to say in a few words, "no more than 90 seconds", what their faith meant to them. Most people, he said, were in tears at the stories they heard, but as they were leaving one couple complained to him, "We thought we were coming to a proper Carol Service, Archbishop, and instead it was all about Jesus"!
Well, the truth is that Christmas is, or should be, all about Jesus. If it isn't, have we somehow lost the plot?
One newly ordained preacher wanted to show not just by words but by actions what the birth of Jesus means.
'I went up into the pulpit with a cloak and a crown over my white cassock and chasuble and began to tell the story of how the King of heaven, the creator of the universe came down to earth so that he could be one with his people. He did not want to live far away in a distant land he wanted to be with his people. As I told the story I took off the crown, and then the cloak, I came down the steps from the pulpit and gave the crown to one of the children in the front row, and the cloak to another surprised member of the congregation. Then I took off my stole and white cassock so that I was now standing in the middle of the congregation in my shirt sleeves. I thought it was a dramatic demonstration of Christ's self-emptying but I had not reckoned on one woman calling out: "Are you going to stop there? I thought you were going to take everything off. I thought you were going to go all the way for a moment." I had no intention whatsoever of going all the way as she put it. But when I thought about it Jesus Christ did do just that; he went all the way, and more.'
As I look at the cover of this month's Catch this I am reminded that the very heart of the Christian faith is a vulnerable God, who emptied himself to become one with us. Jesus, the child of Bethlehem, was like any other new born child in need of warmth, milk and love. He was without even a proper roof over his head, totally dependent, totally vulnerable. God had completely entrusted himself into human hands, what the theologians call Incarnation. He did it to welcome us in love.
I love the invitation that one church offers:
We extend a special welcome to those who are single, married, divorced, gay, filthy rich or stony broke. We extend a special welcome to those who are crying new-borns, skinny as a rake or could afford to lose a few pounds. We welcome you if you can sing like Pavarotti or are like our vicar who can't carry a note in a bucket. You're welcome here if you're just browsing, just woke up, or just got out of prison. We don't care if you're more Christian than the Archbishop of Canterbury, or haven't been in church since little Jack's christening.
We welcome you if you are having problems or you're down in the dumps or if you don't like organised religion – we've all been there too!
We offer a welcome to those who think the earth is flat, work too hard, don't work, can't spell, or because your grandma is in town and wanted to go to church. We welcome those who are inked, pierced or both. We offer a special welcome to those who could do with a prayer, had religion shoved down their throat as a child, or got lost in the local one-way system and wound up here by mistake. We welcome tourists, seekers and doubters, bleeding hearts…………and you!
But he didn't just come to be alongside us, to welcome us in love and then leave us as we are. He came to make a difference. The very name Jesus means Rescuer. Jesus came to rescue us from the mess we have made and to restore the dream of how God intends for us to live.
---
Thought for November 2016: Rome and The Cross of Nails
Heather and I have just come back from a few days in Rome. All the major tourist sites were bursting with people in the October sunshine. It's probably like that the rest of the year, come to that. The Colosseum, Sistine Chapel and Pantheon all have thousands of visitors a day. St Peter's Church has more, and there were wave after wave of pilgrim groups arriving as part of the Jubilee Year of Mercy.
Jaw-dropping though these sites are, one of my favourite moments was to visit San Gregorio Magno al Celio, the church of St Gregory the Great, away from the bustling crowds. The church's door, which is part of a monastery of Benedictine monks, is kept locked, and you have to ring a bell if you want to go in and look round. Inside there is a wonderful quiet air of reverence. It was from this spot that Pope Gregory commissioned Augustine in 595AD to go and evangelise the Anglo-Saxon people.
Just a few days before our visit, a service of Vespers took place as part of the 50th anniversary of the first official public meeting between the Pope, Paul VI, and Archbishop of Canterbury, Michael Ramsey, in this special place. (1966 wasn't just important as the year we won the World Cup!) Now their successors, Pope Francis and Archbishop Justin Welby, together with a host of other church dignitaries and the choir of Canterbury Cathedral, celebrated the growing relationship that has developed between the Roman Catholic Church and the churches of the Anglican Communion, overcoming centuries of mistrust and division.
During the service, 19 pairs of Anglican and Roman Catholic bishops from across the world were commissioned by the pope and the archbishop before being "sent out" in mission together. Pope Francis told them: "Fourteen centuries ago Pope Gregory sent the servant of God, Augustine, first Archbishop of Canterbury, and his companions, from this holy place, to preach the joyful message of the Word of God. Today we send you, dear brothers, servants of God, with this same joyful message of his everlasting kingdom."
Of course there are still "serious obstacles" to full unity between Anglicans and Roman Catholics, but in a Common Declaration the two leaders affirmed that the differences "cannot prevent us from recognizing one another as brothers and sisters in Christ by reason of our common baptism. Nor should they ever hold us back from discovering and rejoicing in the deep Christian faith and holiness we find within each other's traditions."
Gifts were exchanged, and I gather this was a most moving moment. Archbishop Justin took the pectoral cross from around his neck and presented it to Pope Francis. It was a cross of nails from Coventry. The pope then pressed the cross into his hands, and put round his neck.
Coventry, and the Community of the Cross of Nails based there, is a centre for reconciliation. After the destruction of the Cathedral in November 1940, at the Christmas Day service from the cathedral ruins Provost Richard Howard declared that when the war was over he would break the cycle of vengeance and work with those who had been enemies "to build a kinder, more Christ-like world."
Inspired by the cathedral's stonemason, who made a wooden cross from the debris, the Provost made a cross from the nails that originally held the roof together. An altar was made from the rubble, the crosses were placed on it and the words 'Father, Forgive' were inscribed behind.
In a month when we keep Remembrance Sunday and memories of past wars, and think of the turbulence of our own day not least in Syria, we pray for the continuing work of peace makers and reconciliation.
---
Thought for October 2016: In Celebration of 150 years of Readers
Sue Latimer writes: Theology is much too good to be just for theologians. Too fascinating, too freeing, too much fun. My two favourite theologians are Professor Margaret Barker, who is the expert on First Temple theology, which makes Harry Potter read like the minutes of a very boring meeting. And Terry Pratchett, who was (still is in Heaven, I expect) the expert on and creator of Discworld.
Theology set me on the road that led to being a Reader, not that I knew it at the time. When I had to give up work because of arthritis, I decided to treat myself and do what I had wanted to do for years, study theology. Self-taught at first: I went to Wells Library, found the section marked Religion, started at the top left hand corner and worked my way down and across to the bottom right hand corner. I read the lot. Very interesting, some of it very odd. Now that illness is making me give up some more work, I am still studying, only now I've got my own library. Very interesting and yes, some of it very odd.
I went on from Wells Library to Christian Foundations – now Exploring Christianity – as suggested by our then Rector Julian Smith. I loved it, so when he advised me to train as a Reader, I applied, even though I had no idea what a Reader was. I remember being in a flat spin on my interview, and Richard Brown, head honcho of Readers, gave me priceless advice. He said "Once you've offered yourself to work for God, life will never be the same. If you don't get this, there will be something else." And he was absolutely right.
To become a Reader means years of good training and ongoing superb support. It also means that we are completely individual. We might all have blue scarves, but our vocations are different and personal. Each one of us called to do whatever needs done, of course, but above all to discover what our particular gifts are and then offer them.
This is a great comfort to me, because with 16 years under my cassock belt I can still get into amazing muddles. In one Church which seems to bring out the total muddle-maker in me, someone sits behind me and hisses into my ears what should happen next. Some others prefer to let me loose and see how we get on. I am of the Sir Thomas Beecham school of thought: he declared that when conducting orchestras he was content as long as they started together and finished together. The Vergers at Wells Cathedral where I work as Duty Chaplain, worry if I don't forget to switch off my microphone after leading the prayers at least once; something must be the matter.
I had a cushion once bearing the words "God sees the heart, he judges by the will". Not many people have a theology founded on a cushion. But it makes such sense.
In the meetings of the 12 Step Programme of Alcoholics Anonymous, Narcotics Anonymous etc., the idea is to "share". That's share "your experience, strength and hope", the things you find out, the things you get right and the things you get wrong; in order to help others on the same journey. It's the same for me in Church. I've been lucky enough to discover a great many things: my will is to share with others what they might not have had the time or opportunity to find for themselves.
And if I says it as shouldn't, I do tell a good story. Sometimes the best way to share a discovery is by writing a story about it.
Readers are many things to many Churches. To me the fact that we are Lay theologians is of greatest importance. We are laity, just people: people given more teaching than is usually available; given chances to use their gifts, to share with others. And to flap about in robes.
with Love and Prayers
Sue
---
Thought for September 2016: Act Your Age!
One of our members, Peggy Frost, is coming up to her 100th birthday at the end of September. What a wonderful achievement! She is a shining example of how to grow old, and we offer her our warm greetings and love.
The number of people in this country living into their 90's has trebled in the last 30 years, with now over half a million. Those who go on to become centenarians has also quadrupled in that time span. We are in the middle of a revolution as our greying generation faces old age in ever increasing numbers. Better medical care and rising affluence, together with a growing awareness of the importance of diet and exercise have all played a part in this development.
George Holley-Moore, a researcher into longevity, has predicted that the trend will go on. "This increase of our 'oldest old' is looking like it will continue and while we need to be aware of concerns about regional inequality of life expectancy, as well as the increase in conditions such as dementia, the fact that more of us are enjoying a longer, more active old age is a cause for celebration."
Yet for all this, we live in a culture that fights against the natural process. Between us we spend millions on masking the signs of age with anti-wrinkle cream and facelifts and the rest. The negative stereotypes of age as diminishment and decline need to be challenged. We need to stop viewing old age as a problem; as an incurable disease. We have to learn to see that every part of our lives has value; even the grey hairs!
Like it or not, we are all getting older! We all have a stake in this subject. Many older people in our community are also learning a new lifestyle as carers of spouses, or parents, or other elderly friends.
On Tuesday 13 September at 7.30pm the local churches have banded together to organise an evening at St Mary's Church, Wedmore, to look at this important subject. Canon James Woodward of Sarum College in Salisbury will be leading the evening. He is a very engaging and interesting speaker, and has innovated significant developments in the thinking and practice in the area of ageing and spirituality both in the church and beyond. (For 'spirituality' read "a search for meaning".) This is an evening all of us can get something from. Don't miss it!
Through his writing and speaking, James encourages us to think more creatively about the nature of ageing. That means we shall have to become conscious of our own ageing and resist our fears and denials. "What we must try and do is to befriend the elderly stranger within ourselves." We shall have to challenge the cultural obsession with youth and seek to replace it with a respect for our own and others' process of ageing. We must face the fact that our churches are ageing churches, but that does not mean they are in decline or facing inevitable death.
If we're honest most of us really don't want to get older; we both fear and deny it. These fears are real, because old age brings many challenges and difficulties. I for one long for the churches to be part of a movement, which changes the way we look at and deals with old age.
How about investing in an approach to older people that sees them as a resource, and the ageing process as a time of integration, growth, space for wisdom, creativity and wholeness?
---
Thought for August 2016: Citius, Altius, Fortius!
Our cover for the August Catch this by the cartoonist Mesia reminds us of the awful atrocity that took place on the seafront of Nice. Crowds of people, including young families, were out celebrating Bastille Day when suddenly all turned to panic. Other chilling acts of violence in Bavaria and Baghdad have filled the news recently too as well as an attempted coup aimed at destabilising the leadership of Turkey.
Compassionate God and Father of all,
We are horrified at violence
in so many parts of the world.
It seems that none are safe, and some are terrified.

Hold back the hands that kill and maim;
turn around the hearts that hate.
Grant instead your strong Spirit of Peace:
peace that passes our understanding
but changes lives.
Through Jesus Christ our Lord, Amen
In our own country a whirlwind of change followed the result of the EU referendum. The leadership of the Labour Party has been challenged. We have a new Prime Minister (I got a text from one of our girls to say "A vicar's daughter???!!!") and a new Cabinet. We wonder what a post-Brexit Britain will be like. We live in unstable and troubling times indeed.
It seems a bit trivial and shallow, then, to write about the Olympic Games; but it could be worse. I did wonder about musing on the sudden rush of people to the streets, mostly a younger generation, complete with their smart phones. I understand that in the new craze that has hit the country, Pokemon Go, our three churches are of great interest as gyms, and places to do battle with pocket monsters…!
So the Olympics it is. August will undoubtedly be a feast of sport for many of us although some of the 2am and 2.45am times of finals may not go down well in every home. It's no coincidence that I have a week's holiday booked strategically to cover most of the important events from Rio. We also happen to be staying where there is a particularly good TV!
In readiness I marked out in church the distance Greg Rutherford travels in his long jump. His best jump is a jaw-dropping 8 metres 51cm, and he will need to come close to that if he's to retain his gold. There is a huge appeal in seeing the pursuit of sporting excellence, whether it's cycling, hockey, rowing, clay pigeon shooting, or, my favourite, athletics!
The aims of the Games are to achieve: citius, altius, fortius - faster, higher, stronger. This motto was proposed by Pierre de Coubertin. He borrowed it from a Dominican priest, who was an athletics enthusiast. Coubertin said "These three words represent a programme of moral beauty." There is indeed a purity in sport.
It's true that the allegations of doping do cast a shadow over the cleanness of the games. At the time of writing it is not clear whether the whole Russian team will be banned or not. But they are not alone in searching to get an edge over their competitors.
It is, though, not just about winning medals or being the best. A more informal but well known motto, also introduced by Coubertin, is "The most important thing is not to win but to take part!" Coubertin got this motto from a sermon by the Bishop of Pennsylvania during the 1908 London Games.
One of my abiding memories from London in 2012 was the wonderful atmosphere around the whole city, and of volunteers who added to the fun, offering not only advice about where to go but also cheerful banter. People from all kinds of nations were united in a joyful celebration that warmed the heart.
I had grown up with the thought that the intertwining rings of the Olympic flag represent the five main continents of the world. Apparently, though, the five colours, together with the white background, stand for every colour that appeared on the national flags that competed in the Olympic Games in 1912; all together under one flag.
May the Games of Rio provide us with a sign of hope for a world renewed and made one. Or, in a prayer, "Grant, Lord, that the world may be sustained in its journey towards tolerance, understanding and peace."
---
Thought for July 2016: When I needed a neighbour ...
On 16 June, a normal Thursday afternoon in West Yorkshire was shattered when a Member of Parliament was attacked and killed as she prepared for her constituency surgery. Jo Cox was doing her public duty of listening to and representing the people she was elected to serve.
The week had begun badly with a mass shooting in a night club in Orlando, Florida, which, with 49 dead, was clearly an attack on the LGBT community. Days later in Paris, a policeman and his wife were stabbed in front of their young child by a man shouting "Allahu Akhbar", Arabic for "God is great". What kind of God is that, I wonder.
These killings shocked the world. How do we make sense of news stories like these? It's all too easy just to feel shaken up, and a little more vulnerable and afraid inside. Or perhaps we wait until another news story distracts our attention. I have been reminded, though, that there are other ways of responding.
Fred Rogers is quoted as saying, "When I was a boy and I would see scary things in the news, my mother would say to me, 'Look for the helpers. You will always find people who are helping.'" In each of these three stories there were indeed people who bravely confronted the attackers, and put themselves on the line.
In the tributes to Jo Cox that followed her death, none have been more moving than her husband, who encouraged us all to fight against the hatred that killed her. (Her attacker was asked to confirm his name in court a few days later and replied with: "My name is death to traitors, freedom for Britain".) "Jo believed in a better world," Brendan said, "and she fought for it every day of her life with an energy, and a zest for life that would exhaust most people."
Sarah Brown, who worked with her, said, "Jo cared about everybody but she reserved a special place in her heart for the most vulnerable and the poorest citizens of the world. She was fearless, she was endlessly upbeat and she reached out to so many to join her cause." Another said, "Jo didn't just believe in loving her neighbour, she believed in loving her neighbour's neighbour. She saw a whole world of neighbours." She was passionate in her humanitarian campaigning work.
John Bercow, in the memorial service at St Margaret's, Westminster, read a passage from Deuteronomy in the Old Testament, which urges people to "open your hand to the poor and needy neighbour in our land".
The gospel reading for the Sunday after the three attacks also couldn't have been more appropriate. It was of the disturbed and mentally deranged man from Gerasa, who lived outside the community in a cemetery, often ranting at passers-by, and at times having to be restrained by shackles. While some may have reacted by saying, "lock him up and throw away the key," Jesus broke the chains that bound the man, and restored wholeness to his broken life.
May God bring his calm and peace to a troubled world.
---
Thought for June 2016: HQ Calls ...
Last week we had the delightful surprise of an invitation to a consecration service in Canterbury Cathedral at the end of June. The lovely and bubbly Jan, who was curate back in the day when we were part of the Stafford Team ministry, is now being made Bishop. She will be working in the Derby Diocese as Bishop of Repton. As well as being able to celebrate this special moment, and catch up with some of our old friends, it will be the first visit to Canterbury for Heather and me.
We nearly got there a few years ago, when en route to France. The plan was to spend the afternoon exploring the cathedral and then stay overnight before catching the ferry next morning. In the event the M4 and M25 were both closed because of accidents. It seemed like every road across the south of England had ground to a halt. We only got to the edge of Canterbury late in the evening, by which time we were frazzled and tired, and everything was shut.
In 597, Augustine and 40 monks were sent by Pope Gregory to evangelize the Anglo-Saxons (after he had seen the fair-haired slaves from Britain in the Roman slave market and taken them for angels). In Kent, Augustine was received by King Ethelbert, a pagan who was married to a Christian, Bertha. Ethelbert gave Augustine a small church in Canterbury. Within a year the king converted to Christianity. Augustine commissioned the construction of the Canterbury Cathedral, and in 602 he became the first Archbishop of Canterbury. From those intrepid monks the Christian faith was carried across the country. The Cathedral was rebuilt completely by the Normans in 1070 following a major fire.
It was more than 500 years after Augustine that Canterbury became a great focus of pilgrimage. In 1170, Thomas Becket, who was the Archbishop in Canterbury at the time, was murdered inside the Cathedral walls. Becket quarrelled with King Henry II over the power of the church and the rights of the clergy. The king is said to have cried out in rage, "Who will rid me of this troublesome priest?" Four knights, taking him at his word, entered the cathedral during vespers, confronted Becket and murdered him at the altar. Three days after his murder, there were accounts of several miracles, which were attributed to his martyrdom, and after Pope Alexander III canonized Becket in 1173, pilgrims flocked to Canterbury to visit Becket's shrine and make prayers for miracles of their own.
Pilgrims and visitors have continued to make their way to Canterbury Cathedral since those times. It remains one of the most visited places in the country. Visitors have always been made welcome in the ancient tradition of Benedictine hospitality, where everyone is invited to share the beauty of one of the great holy places of Christendom. Me, I'm looking forward to looking up in the central tower!
Hopefully later in the year there will another first, when we get to Rome!
---
Thought for May 2016: Inside Out!
There may be two bank holiday Mondays in May to look forward to, but there's so much more!
For Christians there are the two major festivals of Ascension (as pictured on this dramatic painting) and Pentecost (see page 5 of the May issue of Catch this), as we celebrate both the completion of Christ's earthly ministry and the arrival of his Holy Spirit. We also have the somewhat quirky ancient custom of Beating the Bounds on Rogation Sunday (1st May): walking round the parish boundaries and praying for the community as we go. This is a healthy reminder that Christianity belongs more to the open air and to the world that God makes and loves, than it does to church buildings.
Close on its heels comes Christian Aid Week (15th – 21st May) with its red envelopes, reminding us of the practical responsibilities we have to neighbours beyond next door that we will probably never see or know. The quiet work of development that this important organisation supports, gives dignity and hope to some of the world's poorest people.
We also have a village event in and around Shipham Village Hall on 14th May, which is to raise funds for the support of refugees. Just when you think it can't get worse, we hear yet more harrowing news of over 400 migrants drowning in the Mediterranean Sea in an overcrowded boat on its way from Libya to Italy. Our efforts might only be a scratch on the surface of a huge international crisis, but far better that than doing nothing.
May also brings the somewhat odd-sounding Archdeacon's Visitation. In our case this means that Archdeacon Nicola will make her annual visit to swear in local churchwardens. After the annual parochial meetings in April in which we have elections, we are able to say thank you to three people coming to the end of their four year stint – Peter Smith (at Axbridge), Trish Ashmore (Shipham) and Sue Erasmus (Rowberrow). We are also grateful to those who continue in office, Judith Strange, Margaret Howell, and Adrian Adams respectively, and to those newly elected this time round: Margaret Pritchard (Rowberrow) and Liz Foster (Axbridge), with the Shipham Annual Meeting to come...!
The office of Churchwarden is one of the earliest forms of recognised lay ministry. As far back as the 13th century Churchwardens were custodians of the fabric and furniture of the Church. Even today, they are the legal guardians of the church's moveable furniture, plates and ornaments of which they are required to keep an accurate and up-to-date inventory.
As Ursula Buchan, churchwarden in Peterborough Diocese and grand-daughter of the author John Buchan of The 39 Steps fame, put it, "Churchwardenship must be one of the strangest voluntary occupations you could imagine, since it is partly intensely practical and partly quietly spiritual. I inhabit a world of aumbries, risk assessments, blocked drains, corporals, coffee mornings, quinquennial architect's reports, vestments, child protection policies, intercessions rotas, gluten-free wafers, 'open gardens' and altar frontals. In the course of a week I may telephone an undertaker, polish the paten and chalice, write a Statement of Need in preparation for a Faculty application, check the communion wine hasn't gone off, and assist the vicar on Sunday to serve the bread and wine, with as much reverence and discretion as I can muster." It's important to remember that not all of these jobs are done by our valiant churchwardens, but it is their responsibility to make sure that these tasks are done by someone!
As Ursula Buchan remarked, "We are ordinary people, charged with looking after an extraordinary, irreplaceable building that is still a crucial centre of rural community life."
Far from the church retreating behind closed doors, we are called to offer our best to God and neighbour both inside and out!
---
Thought for April 2016: Fasting and Feasting
After the fasting of Lent, which for some might have been from chocolate or meat or alcohol, I now look forward to the feasting of Easter!
I don't know what your image of a feast might be. It might be a Christmas dinner with all the trimmings, or a wedding reception, or some other big celebration with a large table groaning with goodies. I don't so much think it's what you eat that makes it a feast, but with whom the meal is shared. On Mothering Sunday we had four generations of the family around the table, which to my mind made it a feast.
Doris, a friend from Stafford, had lived over eighty years, the whole of her life, in the same house. The time came, though, for her to have to move to a warden controlled flat. She wondered what furniture would fit in, but was determined at all costs to get her big old dining table in. "I know it's too big for the flat, really," she said, "but it holds so many memories of family meals and celebrations, that there was no way it wasn't coming with me!" That table and its memories sustained her through the move.
There has been a very interesting series on BBC2 recently called Back in Time for the Week-end. It took a family out of the 21st Century with all its technology, and travelled back in time to discover the radical transformation of our leisure time since 1950's. As well as looking at what people spent their leisure time on over the decades, and how much they had to spend on it, and what there was to buy, it was fascinating to see what effect it had on the way the family interacted. There were two children in the family, and the 16 year old daughter said of the experience: "It gave us a real insight. I feel quite changed. We've done things we never thought we'd do. We've done things as a family together, which has been brilliant." As technology and ability to buy more has developed and taken over, friends and family can easily sit in the same room but not interact because they are using their smartphones or tablets. We need to learn again the art of conversation and feasting!
One of my favourite places to visit, and I must try and get there this year, is Hilfield Friary. The Franciscan brothers offer hospitality to all sorts who find their way there. The twin heartbeats of the community are the chapel, a simple converted cowshed, and the farmhouse dining room, where on most days you can find gathered round the table 'the rich soup of humanity' as Brother Sam puts it. All are welcomed around the table of God.
In New Testament the first 'sign' of Jesus and his kingdom in John's Gospel takes place when Jesus and his friends and mother are at a village wedding, which is due to last for days. All is apparently going well until the wine runs out. At first Jesus tells his mother, "Is that any of our business – yours or mine? Don't push me." She, though, is not put off and tells the caterers, "Do whatever he tells you." Some 175 gallons of water are turned into the finest vintage wine and Jesus rescues and transforms the situation. Now Cana is on the map, and remembered in every wedding service. I believe that Jesus loved an opportunity for a party and a feast.
Happy Easter!
---
Thought for March 2016: The Kingdom of Aslan
Last month Shipham Players put on a production of The Lion, the Witch and the Wardrobe. The story was the first of C S Lewis' tales of Narnia. It's all about the four Pevensie children, Peter, Susan, Edmund and Lucy, after they had been evacuated from London during the wartime Blitz to the large, old country house of a professor in Dorset.
As the children explore their new home, Lucy manages to stumble her way into a wardrobe, which initially looks as though it simply contains some old fur coats, only to find that it doubles as a magic doorway to a forest in the land called Narnia. She returns and tries to tell the others what she has seen, but they do not believe her story about another world inside the wardrobe. It's not surprising; when they inspect it, there is nothing unusual about the solid back panel.
During a game of hide-and-seek, Lucy again passes through the wardrobe into Narnia. This time her brother Edmund follows her. When Lucy and Edmund return from their adventures, Edmund denies to the others that he has been anywhere. So Peter and Susan are puzzled by Lucy's insistence, and consult the Professor, who surprises them by taking Lucy's side and is the first to believe that Lucy did indeed visit a land called Narnia. He tries to convince the others that she didn't make it up.
There is more than a hint that he knows more of this kingdom than he lets on. Before long, all four children hide in the wardrobe to avoid the professor's dour housekeeper, Mrs. Macready, and find that it is true. So a new world opens before them, outside the normal boundaries of time and space.
In the Shipham Players' production in the Village Hall, on a very soggy Saturday afternoon, when the curtains drew back from the wardrobe to reveal the magical kingdom beyond, there was a gasp of delight from the audience.
But still some just cannot see—and it remains just a wardrobe. There is a growing number of people in our society for whom any talk of a spiritual dimension of life is nonsense and the wardrobe you see before you is the only reality. Undoubtedly the biggest challenge facing the Christian faith today is how to communicate that faith in a way that makes sense to a modern ear.
When The Lion, the Witch and the Wardrobe was first published in 1949, the initial critical response was less than enthusiastic. I understand that at that time it was fashionable for children's stories to be realistic. Fantasy and fairy tales were seen as appropriate only for very young readers and potentially damaging to older children, harming their ability to relate to everyday life.
By 2012, though, a survey showed that this was the second most common book that adults had read as children, after Alice's Adventures in Wonderland. So much for not wanting fantasies of other worlds – not to mention The Lord of the Rings, The Hobbit and Harry Potter!
I don't want to spoil the story for those of you who were not fortunate to go last month and haven't yet read it, but this is first of the chronicles of Narnia. It can be understood to reflect a world that needs saving from evil, and of the supreme sacrifice made by the one who is the rightful King of Narnia.
It makes interesting reading as this month we remember the events of the first Easter. C S Lewis wrote that "The Narnian books are not as much allegory as supposal. Suppose there were a Narnian world and it, like ours, needed redemption?"
---
Thought for February 2016: Taking a long hard look ...
In the last weekend of January I will join with over half a million or more others, who will be taking part in RSPB's Big Garden Bird Watch. The idea is that you set aside an hour a sit and look closely at what birds there are in your garden and note them down. It will be a good discipline for me on a variety of levels.
Normally I just have a quick glance out of the kitchen window, to see if something is happening outside. My eye was caught by a flock of jackdaws a few days ago, which swooped on the remnants of last year's apples. It was fascinating to watch the couple of look-out birds that were on guard to warn the rest if there was danger. Better still is when we have the occasional visit of a woodpecker and we reach for the binoculars on the window sill. It will be interesting to see just how many different kinds of birds do visit in the hour and to appreciate a bit more what is literally on my doorstep.
I was visiting a home recently in Shipham where the seat by the window in the kitchen is known as the 'time waster'. It's the place where the people who live there just gaze at the wildlife outside and enjoy what is going on.
More importantly the Big Garden Bird Watch will be a good discipline for me to sit still and properly concentrate. Am I alone when I think that our brains are being trained to become ever more like butterflies, moving quickly from one thing to another? Google has me darting from one piece of information/trivia to the next. Twitter, perhaps a classic example of our digital age, only allows 140 characters: just a couple of sentences; no more than a quick burst of birdsong and it is gone.
This should all be good preparation for three things taking place in February.
Ash Wednesday on the 10th sees us embarking on the adventure of Lent. It's an important part of the year when we are encouraged to get a good book to take us through to Easter and quietly and prayerfully take stock of who we are, where we are going, and the God who is love. There will also be a number of weekly discussion groups around the benefice with other travellers to help us on the journey. Please ask if you would like details of what's on near you.
Valentine's Day, 14 February, falls on a Sunday this year, so we have decided to make our evening service at Axbridge that night a special Celebration of Marriage. It will be at 6.30pm and everyone is welcome. You may have been married six months or, like Brian and Joyce Winder, 60 years. There will be some cake and bubbly to help, and it will be a time to reflect on the important relationships of our lives and pray for them. I'm well aware that for some marriage hasn't been easy, and for a variety of reasons this might be a hard service for others to come to, but please come if you can.
Then on 28 February we have a community celebration in Axbridge with civic awards for those who have made a significant contribution to the life of the town. The three communities of our benefice are indeed great places to live.
Let's learn to look closely and carefully, and appreciate what is on our doorstep.
---
Thought for December 2015: We wish you a Messy Christmas?
Are you anything like me when it comes to December? How many times have I said to myself, 'This year I'm going to be organised for Christmas'?! 'I'll have the cards written by the beginning of December ready to post by the 5th, courtesy of Shipham Scouts (!) or Royal Mail. I'll do the shopping from the comfort of my sofa. I'll have a series of fabulous Christmas sermons ready in my back pocket just waiting for the day. As if...!!!
Maybe lurking somewhere in our minds is the idea of the Perfect Christmas, à la Delia or Nigella. That might include snow, but certainly not the kind that messes up our travel plans. In my dreams it will be both awesome and delicious.
Mysteriously, every year the plans seem to evaporate and it's the usual mess, with all the last minute panic – thankfully, though, not quite on the scale of this year's Sainsbury's Christmas advert! There, in the early hours of Christmas morning, while the Thomas family are quietly dreaming their dreams, their beleaguered cat Mog is surrounded by a series of disasters, which culminate in the oven catching fire. (You can cheer yourself up and buy the book Mog's Christmas Calamity for £3 at a well known supermarket and support Save the Children into the bargain!)
More importantly, the very idea of a Perfect Christmas is completely out of step with the New Testament version of the first Christmas. There you find a series of messy events – a surprise pregnancy, an unexpected journey that's got to be made, a complete muddle over the accommodation when you get there...Not exactly a recipe for a perfect or relaxing holiday.
And through what looks like the complete mess of the first Christmas, Rowan Williams imagines God to say to us, 'Don't worry – I'm not going to wait until you've got everything sorted out perfectly before I get involved with you. I'm already there for you in the middle of it all, and if you just let yourself lean on me instead of trying to make yourself and everything around you perfect by your own efforts, everyone will feel more of my love flowing'.
In Sainsbury's ad there is a twist as Mog inadvertently calls the fire brigade and saves the house in time, and the neighbourhood then comes together to help the family clean up and enjoy Christmas dinner.
Thank you to Kevin Walke for our dramatic magazine cover this month. It boldly proclaims that Christ is Born and a light is shining on the hut in Bethlehem. Or perhaps the light is shining on our home, or our world, because it's about God at work in our world.
Christ has joined the human race and become the agent of its renewal and transformation. As The Message puts it, The Word became flesh and blood, and moved into the neighbourhood. We saw the glory with our own eyes, the one-of-a-kind glory, like Father, like Son, generous inside and out, true from start to finish.
How we need that light to shine today... I write in the week of the Paris attacks.
I wish you joy in the midst of the mess, and every blessing from the God of ordinary, untidy, and surprising things.
---
Thought for November 2015: Through the eye of the needle!
In a gospel reading one Sunday recently we had the passage where Jesus says it is harder for a rich man to enter the kingdom of God than for a camel to pass through the eye of a needle. I have always taken the picture of trying to squeeze a great and stubborn animal through a tiny hole as part of the outrageous humour Jesus used to make people think.
It is less entertaining that the "Eye of the Needle" might have been a narrow gateway in city walls of that era. These were very small and easy to defend to allow people to get into the city perhaps at night without leaving the place open to attack. Still camels were often heavily loaded with goods and their riders, and would need to be unloaded in order to pass through these narrow gates. Therefore, the image is that a rich man would similarly have to let go of his material possessions in order to gain access.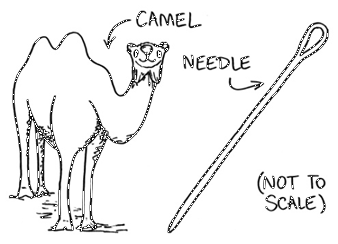 More disappointingly again(!), some scholars have also pointed out that there may be some confusion about the words in Greek and Aramaic, which can be translated either as "camel" or "thick rope".
Clearly I prefer the first option, but the blunt truth told by Jesus remains that it is very hard for rich people because they do not sense that they need God.
John Penton has written a book recently called Widening the Eye of the Needle. This isn't about camels, narrow entrances or rope, but about how churches comply with recent legislation regarding those with disabilities. It's about how to make reasonable adjustments so that our churches become more welcoming and inclusive.
On similar lines our Diocese has just launched a document Open To All, which encourages us to have a good look at our churches and what we do. It enables us to look with open eyes and hearts with the needs of different people in mind, and welcome what each person has to offer. "We are made in the image of God, and as such all people are of equal importance and significance. In God there is no distinction between male and female, Greek or Jew, bond or free – disabled or abled."
It is sobering to think that up to one in five of the population has some sort of disability. Wheelchair users are about 7.5% of all 'disabled' people. Some disabilities are more obvious, but many are hidden, for example dyslexia, epilepsy and arthritis, to mention just a few.
At Axbridge we have been struggling for a number of years with how we make the church building more accessible. It might have a wonderful position overlooking The Square, but for some people - oh those steps! We hope we are now making some positive progress towards a solution. Watch this space...
There is something very exciting about a community that can welcome and celebrate the contribution which all can make. I often think back to my congregation in Stafford where we had three people with Down's Syndrome: Josie, Stanley and Sheila. Josie and Stanley were quieter, but had great warmth about them. Sheila was built rather like a tank and would launch herself at you to hug you. She would often come in a big brimmed hat and from her seat at the front of the church turn round when the service got a bit boring, and give you a great big grin and point to what she was wearing! Between them they helped the rest of us to understand the Gospel in ways that without them we would never have known.
---
Thought for October 2015: The World in Union!
Some of us have been waiting for the World Cup for a long time, and October offers a feast of sport.
I'm talking rugby, of course... It's a great team game, both for players and spectators. By the time you read this I will have been to two of the matches, and hope to see a lot more on television.

I do, though, have to agree that the broadcaster's decision to bookmark every one of its commercial breaks with a line from World in Union may drive us all up the wall by the time the final takes place on 31 October!
The song was commissioned for the 1991 competition, and has a great tune from Gustav Holst's Planet Suite. The words, by Charlie Skarbek, attempt to capture the spirit of friendship which pervade rugby union the world over, and makes being part of a crowd such a joy.
It's the world in union
The world as one.
As we climb to reach our destiny
A new age has begun!
How the world needs that at the moment... The news has been filled with the escalating crisis of refugees from various troubled parts of the world. Principally they come from Syria, where a war has dragged on for five years, with no sign of resolution. The vast majority are in huge camps on the edges of this country, but growing numbers have risked the perilous journey to Europe. The pictures and stories have been almost overwhelming. I'm sure we have all been shocked and upset by the recent pictures from Calais and Hungary, and, perhaps most distressingly, from the shores of the Mediterranean.
Few of us can begin to imagine what it might feel like to leave home because it has become unbearable to stay, and head for an unknown future in a foreign land.
A number of people have spoken to me about what we can do to help, something that will make a difference. Bishop Peter, in his Pastoral letter quoted below, has made a number of suggestions. It may be to write to those in authority, or to offer financial support, or to have more hands on involvement.
He cautions that we work through established agencies who are already working in the field, which have the skills and experience to do this work – whether that be in Europe or in Jordan, Lebanon, or Syria itself.
The Harvest collection at Shipham went to Tearfund, which will enable them to offer care and aid to the refugees that have fled into Europe and are in huge need, as well as helping some of the millions who are displaced or refugees within the Middle East itself.
Axbridge has a new CMS partner, David Longe, who has recently become the Chaplain of the Bishop of Jerusalem and the Middle East. This diocese includes Syria, Jordan and Lebanon. David will be able to direct our gifts to appropriate projects with people who know the situation well. If you would like to give something towards this, please let us have it in time for John Angle to deliver our gifts by hand to Jerusalem, when he goes on 18 October.
When refugees do arrive in this country, there will be all kinds of issues to face, not least dealing with vulnerable and traumatised people. There are a number of organisations already working in Bristol with refugees and asylum seekers including Bristol Hospitality Network, Bristol Refugee Rights, b.friend, and Borderlands. We might consider supporting what they are doing.
World in Union speaks of 'searching for the best in me'. I wonder how that might affect how we respond, that the desperate may find new hope, and lives torn apart be restored.
Responding To The Refugee Crisis
The Bishop of Bath and Wells, the Rt. Revd. Peter Hancock, has expressed his shock and upset at the refugee crisis in Europe and urged churches and local communities to respond by working with established agencies to support those affected.
In a pastoral letter sent to all licensed clergy, Bishop Peter said: "It feels as if there has been a breakdown in the human race's ability to care for its weakest members. While the big picture of politics and civil war perplexes us, the individual tragedies go straight to our hearts. We all want to do something.
"Our churches have already been asking what they can do to help, and collections of money and goods have already been taking place on a more or less ad hoc basis. We see practical needs, and it is natural to want to help. However, rather than start up lots of small-scale collections, I would encourage churches to work through established agencies who are already working in the field. These agencies have the skills and experience to do this work – whether that be at Calais or in Jordan, the Lebanon, or Syria itself."
Already some people in the Diocese of Bath and Wells have offered to open their home to a refugee family. Whilst Bishop Peter recognises this "generous and hospitable gesture", he encourages individuals to work with established organisations in the first instance:
"Some people have already expressed their desire to open their home to a refugee family, offering rooms or meals. This is a generous and hospitable gesture. The time is not yet right for this to happen: we will have to wait for the Government's relocation scheme to be worked out. When refugees arrive, churches will be in the forefront of those offering assistance, and we will need to do this well. It will not be an easy task. There will be issues of language, dealing with vulnerable and traumatised people, finding suitable schools, and so on. Again, we will do best to work with agencies who know what they are doing."

---
Thought for September 2015: An Old Friend with a New Face!
September brings the start of a new school year, and over the next few weeks our various Harvest Festivals. On Wednesday 9th it also sees the Queen becoming our longest serving monarch in history. In Rowberrow it marks the 150th anniversary of the rebuilding of the church. Ray Evans, who beavers away at local history, found this wonderful report from 1865 in the Daily Bristol Times:
Friday last witnessed the celebration of the re-opening of another of those ancient ecclesiastical structures which it is the pride and glory of Somerset to possess in greater numbers, and, perhaps, of greater antiquity, than almost any other county in England. The hamlet of Rowberrow is romantically and beautifully situated… Here the forefathers of the ancient hamlet, with a piety characteristic of the age, erected many centuries ago a small temple in which to worship God, capable of accommodating perhaps not quite a hundred souls… The architect (of the present restoration) Mr Norton of London, being desirous of exercising a conservative principle in the restoration of the sacred edifice which belongs to the 14th and 15th centuries, he purposed merely repairing the walls and roof, but so dilapidated had the former become and so rotten the latter, that re-building was indispensable. With a praiseworthy appreciation of ancient architecture, Mr Norton determined to keep close to the original design. It now, therefore, presents itself "as an old friend with a new face"...
The building consists of a nave, chancel, western tower, south porch and vestry. The details of the interior are all tastefully executed: one important deviation from the original style being the discarding of the old-fashioned high seats, or sleeping boxes, as they might be called, and the substitution of the neat open pew, which like the roof is made of Baltic timber, stained... The builder is Mr John Palmer of Weston, whose taste and skill are well brought out in the execution of the work.
Having said so much for the church, a word, en passant, may be allowed for the venerable rector himself, the Rev J H Hesse who stands well with his people, and who has stood so for many years. On his first coming amongst them shoe leather was a luxury many of the poor did not enjoy: there was no school-house, or if so not one worthy of the name: and the parsonage situated upon a neighbouring slope, is said to have sympathised with the church in a painful dilapidation. Things, however, are now altered. The worthy gentleman informs us with a benevolent smile that he began first by "putting his own house in order"; next he built a school house, and now he has rebuilt and restored the church – the latter at the expense of £500 – leaving him in debt £100.
To celebrate an event so interesting to the villagers, and so creditable to all concerned, it was no wonder, therefore, as we entered the village, that there rang out merry peals from the bells, that flags waved over the elms, that Flora was profuse in scattering her garlands – and that all was made vocal by the inspiring strains of a juvenile brass band from the Axbridge Union...
It goes on to describe the three services which took place, who was there, and concludes 'The festivities of the day were of a most successful kind.'
We hope you will be able to come and join in the Rowberrow Harvest and Patronal Festival on Sunday 27 September at 6.30pm, as we remember the rebuilding work 150 years on. Our preacher will be Bishop Barry Rogerson, my Bishop when I was a curate in Wolverhampton.
---
Thought for August 2015: New Horizons
A couple wandered into church just as I was about to lock up after the late night prayers on Saturday. Stupidly I tried to chat to them, about where they came from and what they were doing and where they were staying. They just wanted to stare at the ceiling and drink in the atmosphere. "There's a wonderful peace here," they said. They were too polite to say, but that was, until the vicar got in the way...
I should have known better. Through the morning I had joined in part of the Deanery Pilgrimage, during which we walked to five of the little Mendip village churches from Rowberrow to Christon. At each there was that glorious sense of a place soaked in the prayers of centuries. At each we offered our prayers for the people of those communities, and remembered that the church is a sign on earth of a heavenly peace.
Just before we got to Loxton, we stood on the motorway bridge and watched the cars thundering past, many on their way to their summer holidays. As we paused in that dizzy roar, we read from Julie McGuiness' Pilgrimage Reflection:
Some people travel in straight lines:
Sat in metal boxes, eyes ahead,
Always mindful of their target,
Moving in obedience to coloured lights and white lines,
Mission accomplished at journey's end.
Some people travel round in circles:
Trudging in drudgery, eyes looking down,
Knowing only too well their daily, unchanging round.
Moving in response to clock and to habit,
Journey never finished, yet never begun.
I want to travel in patterns of God's making:
Walking in wonder, gazing all around,
Knowing my destiny, though not my destination,
Moving to the rhythm of the surging of his spirit.
A journey which when life ends, in Christ has just begun.
St Augustine mused on how people go abroad to wonder at the heights of mountains, at the huge waves of the sea, at the long course of rivers, at the vast compass of the ocean, at the circular motions of the stars, and they pass by themselves without wondering. That was back in the fifth century, a bit before the holiday travel industry really got going!
Stephen Cottrell quotes Augustine in his little book Do Nothing to Change Your Life. In it he encourages us to discover what happens when we slow down and stop and breathe. We can do that on a beach in Croatia or wherever, but equally we can do it sitting on a chair in our living room and looking out at the garden or the hills beyond.
This week the New Horizons mission has been bringing stunning new pictures from Pluto. The interplanetary space probe has been whizzing through space at more than 30,000 miles an hour since 2006.
But as Marcel Proust put it, 'the real voyage of discovery consists not in seeking new landscapes, but in having new eyes.'
I hope you have a great August, and chance to drink in some new horizons and that peace that we all need.
---
Thought for July 2015: Laudato Si!
I have a great admiration for Pope Francis. I often think his is an authentic Christian voice, reflecting what I imagine Jesus might say. Because of that he has a great capacity to ruffle feathers and to shock. Like his recent claim not to have seen television since 1990…!
His encyclical, Laudato Si': On the care of our common home, has only just come out, and it's bound to create waves, as it already has with some American politicians. In it he urgently appeals for a new dialogue about how we are shaping the future of our planet. "I would like to enter into dialogue with all people about our common home," he writes. The title of the encyclical comes from a canticle of St Francis of Assisi, and reminds us reminds us that our common home is like a sister with whom we share our life and a beautiful mother who opens her arms to embrace us.
Whatever out thoughts about climate change, we need to pose his question 'what happens when we lord it over nature and forget that we ourselves are dust of the earth; our very bodies are made up of her elements, we breathe her air and we receive life and refreshment from her waters?'
David Nussbaum, Chief Executive of WWF UK, writes 'Planet Earth is, as the sub-title of the Pope's new encyclical calls it, the "common home" for humanity. And it's a home that is increasingly falling into disrepair, due to lack of care by the tenants to whom it has been entrusted.'
Giles Fraser's take is that 'human beings are basically big babies, driven by their desires – me, me, me; want, want, want. The job of a capitalist economy is to meet these desires without questioning them. Capitalism does not, for instance, make any moral distinction between what people want and what people actually need – between, say, PlayStations and penicillin. As far as capitalism is concerned, they all count as the same thing – choice… Some people win from this system, some lose. But, mathematically, more people get to realise more of their choices under this system than under any other. But the market has no view as to whether these choices are worthwhile or not. Nor whether they contribute to the common good or the long-term survival of the planet. It just seeks to maximise them.'
The call in the Pope's letter is simple: there is no alternative but for us to make do with less. It's not just about recycling and carbon credits. We need to develop a proper respect for limit. We need to value a sense that there is such a thing as having enough, and finding contentment with enough. Far from a counsel of despair, there is an enormous personal freedom to be discovered in being content with not having everything. This the sort of boundless freedom reflected in the life of Saint Francis, who gave up wealth to live with nature, and from whom the pope took his name. "Once we lose our humility, and become enthralled with the possibility of limitless mastery over everything, we inevitably end up harming society and the environment," he writes.
The encyclical ends with some wonderful prayers, including this:
All-powerful God, you are present in the whole universe
and in the smallest of your creatures.
You embrace with your tenderness all that exists.
Pour out upon us the power of your love,
that we may protect life and beauty.
Fill us with peace, that we may live
as brothers and sisters, harming no one.
Teach us to discover the worth of each thing,
to be filled with awe and contemplation,
to recognize that we are profoundly united
with every creature
as we journey towards your infinite light.
We thank you for being with us each day.
Encourage us, we pray, in our struggle
for justice, love and peace.
Amen to that!
---
Thought for June 2015: Church Bells Beyond the Stars Heard
As I write this I'm busy preparing for 30th May when the Bath and Wells Diocesan Association of Bell Ringers celebrates its 125th anniversary with a celebratory service and lunch at North Petherton. It's my eighth and last year as Master of the Association, and it has been an honour to be involved in something I love and have enjoyed doing since I was ten and living in Yatton.
May has also been a landmark moment in the story of bell ringing nationally as we remember the first peal rung three hundred years ago in Norwich. I'm hoping to be part of a full peal to be rung at Rowberrow on 15th June, which includes a method called Norwich Surprise!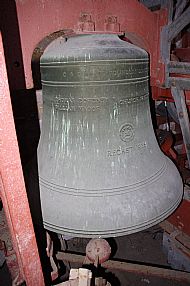 The ringing of church bells in this country has been deeply rooted in British culture for a very long time. From about the eighth century bells have been used to call people to worship. Beyond announcing church services, bells mark important national or local occasions, past and present. Someone described the sound as providing a 'grand soundtrack to historic moments'. You may have heard the bells of Westminster Abbey after a big service there. On 9th May, for example, the Abbey bells rang out to mark the 70th anniversary of VE Day, and the Axbridge ringers joined with them and with cathedrals and towers around the country.
Bells are also rung for significant family moments. We are often asked to ring for weddings, and for that joyous moment as the couple emerge from church as man and wife. In sad times too the bells are rung. The Shipham ringers rang a quarter peal in March to celebrate the life of Terry Coombs, a resident of the village who sadly died last year. Terry's wife, Janet, began to learn to ring at Shipham, before she had to spend more time looking after Terry, and the quarter peal was rung by her friends locally.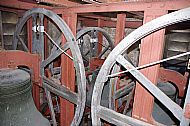 We have much to be thankful for in our ringers who faithfully do their best to make sure that services are announced in the traditional way and the ancient art is preserved. Across the Diocese there are around 1,800 ringers, spread between well over 300 towers. We have teams of ringers in each of our churches, but are always looking to train and encourage new members.

George Herbert wrote a poem, Prayer, about the things that touch something deep inside us, and through which God speaks with us. He uses a host of wonderful images to describe this:
Prayer the church's banquet, angel's age,
God's breath in man returning to his birth,
The soul in paraphrase, heart in pilgrimage,
The Christian plummet sounding heav'n and earth
Engine against th' Almighty, sinner's tow'r,
Reversed thunder, Christ-side-piercing spear,
The six-days world transposing in an hour,
A kind of tune, which all things hear and fear;
Softness, and peace, and joy, and love, and bliss,
Exalted manna, gladness of the best,
Heaven in ordinary, man well drest,
The milky way, the bird of Paradise,
Church bells beyond the stars heard, the soul's blood,
The land of spices; something understood.
Church bells beyond the stars heard… I'll take that, but then I am a bit biased!
If you are interested in Bell Ringing in Axbridge or would like to learn to ring, contact visit Axbridge Church Tower & Bell Ringing or contact the Tower Captain, Roy Shallish on 01934 732137.
---
Thought for May 2015: Ascension
Sandwiched in the middle of an important month in which we have both a General Election and the 70th anniversary of VE Day in 1945, we celebrate Ascension Day. On the surface it's the most disturbing of all Christian festivals, because it talks of departure, and letting go of God's presence.
One of the bosses in York Minster has the disciples looking up at the soles of Jesus' feet, which are disappearing out of sight into heaven.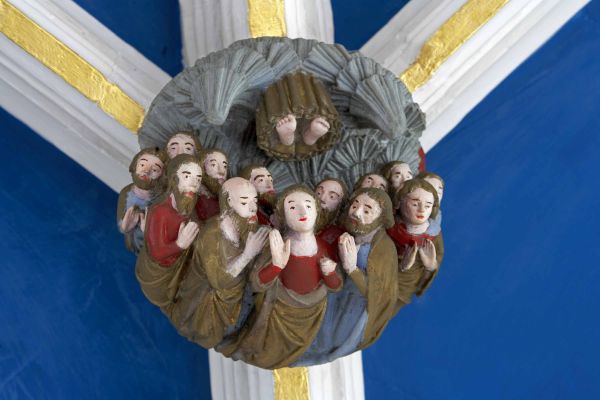 As I write this news has broken of a catastrophic disaster in the Mediterranean Sea with the capsizing of a boat loaded with immigrants trying to get from North Africa and searching for a new life in Europe. Not surprisingly many people will be thinking that this feels like a world where God has taken his leave.
At the Ascension the friends of Jesus had to face the fact that they were going to have to get used to living in a world without Jesus – or at least living in a world without the Jesus they had come to know. After the somewhat frightening and exhilarating weeks of Easter, in which they had got used to meeting Jesus in unexpected places, in a garden, in a locked room, in a journey on a dusty road, and on a beach sharing an early morning breakfast, he was now saying to them, 'It's going to be different. Don't expect to see me in the old way.' They must have felt deeply confused, and not a little fearful.
According to John's Gospel, Jesus had been trying to prepare them for this moment, and told them it would be better for them if he went away. But they must now have wondered how it could be better to live in a world where the tangible sign of God seemed to have gone.
Most of us prefer to hang on to what is familiar. It helps to make us feel safe. The disciples were no different. But when we are dealing with God, there is a danger that we try and domesticate Jesus, and miss the great truth that he is, as one commentator puts it, both 'within and beyond all things, mysteriously holding all things together'. As Rowan Williams writes, 'God is the depth of energy out of which every single thing comes. If we can't instantly "see" God in the world, perhaps it is because he is like the air we breathe, so all-pervasive that we can never pin down his presence as if it were an object.'
The other great promise of Ascension and Jesus' departure is that he will fill his friends with his Spirit. Jesus hasn't just gone away. He has gone deeper into the heart of reality. He has become more than a visible friend and companion on the way. For the disciples he was now able to be at the very core of their lives, giving them power to become signs of God's love in the world. Their new task was to bring the face of Jesus to life in the faces of those they met.
What happened then continues today! Christian Aid Week (10 - 16 May) is just one reminder that there's plenty for us to be involved with, which help us and others to see that God has not taken his leave, but is at the very heart of all we are and do.
---
Thought for Easter 2015: Holy Week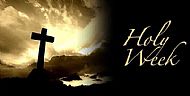 Holy Week and Easter stand at the heart of Christianity. Together they are more important than Harvest, Remembrance, Mothering Sunday - or even Christmas! The heart of the whole message of Christianity is Jesus himself and his self-giving love for the world.
He was on the way from small-town Galilee to the city of Jerusalem, from the margins to the centre, where he was to perform his ultimate act of his love and kingship, when he invited his friends to "Take up your cross and follow me".
Justin Welby, Archbishop of Canterbury, said in a lecture recently: "The best decision anyone can ever make, at any point in life, in any circumstances, whoever they are, wherever they are, whatever they are, is to become a disciple of Jesus Christ. There is no better decision for a human being in this life, any human being." There's a bold claim if you like!
During Holy Week we invite you to come and explore with us what the Archbishop might mean, why Jesus died and how the empty tomb helps us to make sense of life.
Palm Sunday 29 March
The Palm Sunday Procession and Communion begins at 9.30am at Rowberrow Church and culminates at about 10.15am at Shipham Church.
6.30pm Choral Evensong in Axbridge Church with the Benefice Choir.
Monday 30 March
7.30pm Stations of the Cross, Cheddar RC Church, Tweentown. From Quaker to Catholic, this Ecumenical service led by local ministers is always moving.
Tuesday 31 March
From 7pm onwards there will be a Labyrinth in Axbridge Church to help people reflect on their journey with God. Labyrinths have been at the heart of church tradition for many centuries. They have been described as 'the laying on of feet' as we walk the path of Jesus. This is something you do on your own, so come at any time from 7 o'clock to 10pm. (The Labyrinth will also be in church for people up to Good Friday.)
Wednesday 1 April
8pm We will have a service of Tenebrae in St Leonard's, Shipham. This distinctive ceremony from the Latin word for shadows, traces the story of Christ's passion as one by one candles are extinguished.
Thursday 2 April
8pm In the Maundy Thursday Communion in Axbridge we remember the Last Supper Jesus shared with his friends. The service ends as the altar is stripped, and for those that are able to stay there will be a silent Vigil of prayer.
Good Friday 3 April
9am The popular Cross Walk begins at Shipham Church and ends at about 11.45am in Axbridge Square. Along the way we stop and hear the Good Friday narrative and ponder and pray.
(Don't forget the Save the Children lunch at Shipham Village Hall at 12.30pm where you will find home made soups and Hot Cross buns.)
2pm The service of The Last Hour, Rowberrow is a simple and prayerful service for Good Friday.
Saturday 4 April
8pm Easter Eve Vigil, Rowberrow. This begins in the dying light outside, as though at the entrance to the tomb. The first Paschal candle is lit, and we sing
'This is the night of new beginnings.
This is the night when heaven meets earth.
This is the night filled with God's glory,
Promise of our new birth!'
Christ be our light!
---
Thought for March 2015: March, Mark and Mothering!
March is a full month, with lots of promise. It marks the official start of spring, and our spirits lift as the sap begins to rise!
In Axbridge the month begins with the Civic Awards service, a wonderful opportunity to recognise and appreciate some of the community work that goes on, much of it quietly and unobtrusively, helping to make the town a great place in which to live.
Many of the 40 days of Lent run through this month as we remember Jesus in the desert. Lent is, or could be, an uncluttered time where we make space in all the busyness to listen for the still small voice.
This year we are encouraging people to read the Gospel of Mark. It's the shortest of the gospels and, with the help of a book by the New Testament writer Tom Wright, we ask the questions 'Who is this Jesus? What is good news in his life? What is the meaning of his death?' If you would like to join in one of the groups that are exploring, please ask for more details!
Mothering Sunday is on the middle Sunday of March and our thoughts will turn from Lent to Mothers … and their children. A royal baby is due just around the corner. More importantly for our family a new grandchild is expected before that! In preparation we were asked to fill in some of the wishes we have for our new baby. What are the hopes, dreams and prayers we have for it (we don't know what sort it will be)? We had to complete a variety of statements such as 'I hope you learn… I hope you love… I hope you get… I hope you become… I hope you grow…'
I wonder how you would complete these sentences for your children or grandchildren…or even for yourselves?! Do we wish for a long life? Happiness? Wealth – or at least to be comfortably well off? Or something different?
For what they're worth, here are my offerings:
I hope you learn to dance in the rain.

I hope you aren't afraid to be yourself.

I hope you love watching rugby!

I hope you get the most out of each day.

I hope you laugh at some time every day.

I hope you never forget to say sorry and thank you.

I hope you ignore people who put you down.

I hope you become compassionate.

I hope you respect the amazing world around you.
Most of all…I hope you grow to know how much you are loved by your parents, by your grandparents (!), and by God.
I trust March will be a wonderful month for you and yours.
---
Thought for February 2015: Farewell and Thank You – from Andrew and Cathi Hemming
I guess it was ironic that my final service with the Benefice fell on St Andrew's day. On 30th November I finished my time as your Curate, after 4 ½ years. We left with much sadness, having made so many good friends and having shared so much with you; early sermons, Ordination, first Communion Celebration, first Funeral Wedding Baptism, experimental services, study courses and the general metamorphosis of trying to make a priest out of some questionable raw material. Though sad, we also felt excitement, as it was time to stretch my clerical wings. As that day came to an end, both Cathi and I were overwhelmed by a huge sense of gratitude to all of you for your love, care and encouragement through these years.
Curates are not an extra resource that just helps out, but a job of work for the Benefice. Whilst I hope you enjoyed the task, every encouraging smile, cup of coffee, word of advice, criticisms too, has been treasured and used in my formation. You will never know the time Tim devoted to regular reviews, report writing, visits to my college and general care for us both. I am forever indebted to Tim for the excellent training I received at his hand, and the wonderful example he set me in pastoral care, not to mention myriad cups of strong coffee. Together, Tim and all of you, made my training a joy and made the last 4 ½ years a delight for both Cathi and me.
What we have particularly appreciated about our time with you is that all three churches are a tangible witness to the praying, learning and worshiping community that is the Axbridge Benefice. I have not just been trained, we have not just been loved, our faith has been nurtured. Again, thank you.
2nd December I started with Wrington Benefice; comprising Wrington with Redhill, Butcombe and Burrington, in which I have a special responsibility for Redhill. It was the severe understaffing of that Benefice that led to my somewhat rapid departure, your assistance with which Wrington is very grateful. To start in a new post in Advent and to be celebrating Christmas within a few weeks is a thrilling experience; thrilling meaning 'tighten your seat belt and hold on this could be a rocky landing'. However, as with all pregnancies, it arrived on time despite any unpreparedness on my behalf. We are now very happily settled and enjoying making many new friends. These, we hope, will be additional to, and not instead of, our friends from this Benefice. Hopefully some of you will have been able to come to my official licensing on 22nd January. (See What's On for details.)
As a final note, I must just say again a huge thank you for the wonderful farewell card signed by so many and the most generous cheque you gave us. We are still thinking about what to do with that cheque, but part of it has gone on a new Preaching Scarf, with some fine embroidery, which I will wear in fond memory of you all at my licensing.
Farewell, with much love and God's blessing,
Andrew and Cathi
---
Thought for December 2014: Journeys
As Bishop Peter reminds us in his article on page 5 of the December / January Catch This, Advent is all about an amazing adventure, and involves us in a journey to Bethlehem.
For us Advent begins this year by saying thank you and goodbye to Andrew Hemming. Andrew came to us four and a half years ago in the final year of his training at Salisbury Theological College to do a parish placement. He was then ordained at Wells Cathedral in 2011 and has completed his curacy in our Benefice. For the vast majority of this time he has been juggling his ministry here while working for First Great Western, with his daily commute to Swindon or beyond. He has managed to balance the demands of job and parochial ministry, and occasionally fit some time for private life.
During his curacy he has made a deep impact on many people through his sunny character, his enthusiasm, energy and honesty. He has a very disciplined rule of life, which is built around belonging to the Franciscan Third Order. His sermons are always carefully thought out, and he has gradually developed his own style. In preaching Andrew is always keen to engage with the scripture of the day, and to ask what it has to say to us, without ducking the difficult questions that are sometimes thrown up. His aim is not to present something – "this is it, believe this" – but to draw people into a thoughtful response to the Gospel. Through it he has displayed a palpable enthusiasm in the mission and goodness of God. We shall miss him as he moves on to his next post, but recognise that he is ready to take on more responsibility within parochial ministry.
Cathi too has made a significant contribution, particularly through her part in the Sunday School at Axbridge and Godly Play storytelling.
They are moving on to the parish of Redhill, where Andrew will have responsibility for Christ Church, and also contribute to the wider Benefice of Wrington, Butcombe, and Burrington. We offer them both our warm good wishes, our gratitude, and our prayers for this next chapter in the adventure of ministry.
For the rest of us, we face our journey to Bethlehem and Christmas. On December 13th in our evening service at Axbridge Beth Samways, who is a lecturer in the History of Art at Bristol University, will be exploring some of the journeys to Bethlehem that we find in a number of wonderful paintings. Not to be missed!
We will as usual be having our internal Christmas card, which will be given out in church. If you would like to be included on that, please let one of the churchwardens know. All proceeds will go as usual to the Church Housing Trust.
May God bless us on the adventure of Advent and beyond!
---
Thought for November 2014: Digging into the Past
I spent a fascinating afternoon recently listening to an expert unpicking how Axbridge Church developed and gradually came to be how it is today. Jerry Sampson, an expert on church buildings, talked of "squeezing juice" out of the visual evidence that is all around us. (His visit was part of a day described on page 7 of this month's magazine.) I'm hoping that we can get Jerry back and give a wider hearing to some of his findings.
One of the many new things I learnt about the church was the evidence that an anchorite cell was built onto the north side of the chancel in the middle ages. Next to the door which is to the left of the altar and now goes nowhere, there is a squint that looks like the remains of a little window. Outside it is clear that the window could only be used if the person was kneeling at prayer. The stonework also gives the hint of the roofline of a cell.
Medieval anchorites were literally walled up in a small room attached to the side of a church, with a window opening into the church through which they could see the altar and receive Holy Communion. Their cells were called anchor holds as they were thought to "anchor" the church by their prayers.
Sometimes anchorites were men, but most of them were women. The whole idea was to live alone in prayer and worship God without distraction. An anchorite is someone who responds to Christ's invitation to "come away to a lonely place alone and rest a while". In the Psalms it talks of gazing on God "in the sanctuary to see His strength and glory." Although anchorites led a solitary life, they were certainly not recluses. As well as an eye to the Holy Mysteries, they also had a window onto the outside world. Through this they received their food, and people could talk to them and ask them to pray for their needs. People looked to them for guidance, counsel, and spiritual revelation.
Perhaps the best known anchorite of the period when the Axbridge cell might have been active is Julian of Norwich. Her work Revelations of Divine Love dating from 1395, is the first published book in the English language to be written by a woman. She lived in a time of turmoil, with peasant revolts and the Black Death, but her theology was optimistic and spoke of God's love in terms of joy and compassion, as opposed to law and duty. For Julian, suffering was not a punishment that God inflicted, as was the common understanding. She believed that God loved everyone and wanted to save them all. Her best known saying was "All shall be well, and all shall be well, and all manner of things shall be well."
By the late medieval period there were many hermits and anchorites in England, but this came to an end at the time of the Reformation, when even a female anchorite who was over 100 years old was forcibly evicted from her anchor hold.
I suspect most of us would think of the anchorite life pretty much as an off the wall and alien way to live. Most of us live in complete contrast at break-neck speed. We have busy lives with work, family, friends, and endless things to do, that leave us with little time to sleep, never mind stopping and reflecting. Perhaps we need to learn how to slow down and stop...and breathe. Then we too might have chance to catch a glimpse of God, and restore the anchor that gives peace.
---
Thought for October 2014: Beginnings and Ends
I know the road to Wells fairly well – and the back road to Weston through Compton Bishop, come to that. I'm up and down them often enough. Our local roads can have their frustrations, when you get behind a wide or particularly slow vehicle, and you are late for a meeting, but most of the time travelling along them is a joy. I particularly enjoy the ride back from Wells on a summer evening with the sun shining on the hills. I have to keep reminding myself to watch the road and not the view!
A few weeks ago my brother and I experienced it all from a different perspective altogether. I have long promised myself to walk the West Mendip Way, but had never got round to it. Until now!
My Dad did the 30 miles as a sponsored walk in a day when he was quite a bit older than we are, but we wanted to enjoy the views. So we decided to split it into two days. Well, that is our story!
The vast majority of the way is on footpaths and bridleways away from the road. On the road outside Wookey Hole you come across the sign says 'This Road is not suitable for Charabancs'! I don't know what century this comes from, but there were no coaches, cars, or even people most of the time. It means that you see the Mendips in a very different light, and the path took me to lots of places I had no idea were there. Gems like Ebbor gorge.
Some of the views along the way are both panoramic and stunning, but what you are aware of up on the hills is the vastness of the sky, and the constantly changing moods of weather and light, which you easily miss in a car. In this harvest season it's important consciously to reconnect with the soil under our feet and the air we breathe. It helps to lift us back into relationship with our Maker.
We were advised that although the walk according to the book goes from Uphill to Wells, it's best to do it in the other direction, and start at the magnificent west front of Wells Cathedral. If you go from Uphill you see the TV mast above Wells for a long time, and, I'm told, it never seems to get any closer! So we headed towards the sea. This made reading the book and directions backwards a little more challenging.
Most of the walks I do of necessity are circular. You have to get back to where you started from, but there's something about a walk that has a purpose and destination. The other longer linear walk that I did was with a gang of people in my last parish, when we walked The Cleveland Way over the North York Moors and down the Yorkshire coast. With both that and the walk to Uphill, there was a wonderful sense of achievement, when we had reached our destination.
When the poet T S Eliot died, his ashes were taken to St. Michael's Church in East Coker, the village from which his ancestors had emigrated to America. A wall plaque commemorates him with a wonderful and thought provoking quotation from his poem "East Coker" in The Four Quartets, "In my beginning is my end. In my end is my beginning."
How about getting those walking boots out?
---
Thought for September 2014: Enjoying Life in the Departure Lounge
Axbridge Church saw the memorial service in August of our oldest member, Jessie Hillier. She marked her 100th birthday on 2nd March by coming to church in the morning and then having a party in Shipham Village Hall in the afternoon. When I asked her what her secret for longevity was, she had no hesitation in saying "hard work, no strong drink, and never giving in". You may have seen a programme on television recently, 100 Year Old Drivers. Well, Jessie fit the bill, and was driving her big Mercedes in a stately way right up to and beyond her 100th birthday!
The only other centenarian I knew was Eva Morris. I used to take Communion to her in her flat in Stafford until she was 107, when a chest infection forced her to move into a nursing home. She attributed her longevity to a glass whisky every night and boiled onions – a powerful combination! Eva made the Guinness Book of Records and eventually died less than a week before her 115th birthday. You were never allowed to say "goodbye" when leaving, because, she said, "it sounds too final". Instead it had to be "Ta Ta for now!"
During the 20th century the average life expectancy in Britain increased by an astonishing 30 years. People are living longer thanks to improvements in health, diet and preventative health care. Today, for the first time in history, Britain's over-65s now outnumber people under the age of 16.
Wells Cathedral is holding a series of Autumn Lectures entitled 'The Ageing Agenda', which pick up some of these issues. On three Tuesday evenings there will be talks starting at 7.30pm in the nave of the Cathedral, followed by time for questions and discussion. The purpose of the series is to raise issues to do with growing older and finding fulfilment whatever comes our way.
On 9th September Professor Steven Rose, a neuroscientist and Emeritus Professor of biology at The Open University, will be talking about memory. Our memories help to define us, and give shape to our paths through life. Poets, philosophers, psychologists and theologians have thought and written about memory. So what have the brain sciences got to say both about the 'normal' processes of learning and remembering, and what happens when memories fade?
David Winter, a broadcaster and author, will be speaking on 16th September. His recent book 'At the End of the Day' has a sub title 'Enjoying Life in the Departure Lounge'. He promises to focus not on frailty but on how to live with purpose. If people are living much longer, how can those 'extra years' be made fulfilling and fruitful?
Dr Harriet Mowat will complete the series on 30th September. She writes, teaches, and researches in matters to do with the spiritual care of older people. Her talk 'Growing Older: Opportunity and Challenge for the Spiritual Journey' will look at the way in which we think about ageing and what influences our individual experience.
How do we live well – with purpose, joy and hope – in the departure lounge? That's the question!
---
Thought for August 2014: Visiting the Past
On Saturday 19th July Axbridge remembered the events of 1914 as they affected the local community. Scenes of life in the Square of those days movingly helped us to get under the skin of what it might have been like for people then. Many of us had tears in our eyes as an officer and an army volunteer, both still in their teens, marched off towards the station. As they made their way up the church steps, women and children threw petals towards them. So too the evening reflection in church was filled with a powerful blend of music, drama, images and poetry, that none of us will forget in a hurry.
On Sunday 3rd August at Shipham you are invited to a simple service of readings and prayers at 4.00pm remembering those from the village who were affected.
On Monday 4th at Axbridge we will be joining people across Britain in a national event entitled A Million Candles. The event is a reminder of the words spoken by Sir Edward Grey, Foreign Minister, on 4 August 1914: "The lamps are going out all over Europe; we shall not see them lit again in our lifetime". We will gather at 10.00pm for a period of reflection and remembrance. At 11pm, the time war was declared in 1914, the candles will be extinguished.
A number of people have asked me why we were remembering the distant days of a hundred years ago. The answer has came back loud and clear in the most poignant of ways in the last week. 298 people, and the nations they were from, on board a flight from Amsterdam to Kuala Lumpur were suddenly drawn into what had seemed a local conflict in eastern Ukraine. At the same time Israeli forces were entering Gaza at enormous cost on both sides.
Axbridge Remembers ended with a poem Carol Ann Duffy wrote to mark the deaths of Henry Allingham and Harry Patch, the last two British veterans of the First World War. It has a vision of how, rewinding time, things could be different.
Last Post
In all my dreams, before my helpless sight,
He plunges at me, guttering, choking, drowning.
If poetry could tell it backwards, true, begin
that moment shrapnel scythed you to the stinking mud . . .
but you get up, amazed, watch bled bad blood
run upwards from the slime into its wounds;
see lines and lines of British boys rewind
back to their trenches, kiss the photographs from home -
mothers, sweethearts, sisters, younger brothers
not entering the story now
to die and die and die.
Dulce -- No -- Decorum -- No -- Pro patria mori.
You walk away.
You walk away; drop your gun (fixed bayonet)
like all your mates do too --
Harry, Tommy, Wilfred, Edward, Bert --
and light a cigarette.
There's coffee in the square,
warm French bread
and all those thousands dead
are shaking dried mud from their hair
and queuing up for home. Freshly alive,
a lad plays Tipperary to the crowd, released
from History; the glistening, healthy horses fit for heroes, kings.
You lean against a wall,
your several million lives still possible
and crammed with love, work, children, talent, English beer, good food.
You see the poet tuck away his pocket-book and smile.
If poetry could truly tell it backwards,
then it would.
---
Thought for July 2014: Children Learn What They Live
In the next few weeks we come to the end of another busy school year. One of the highlights, which I look forward to, at both Axbridge and Shipham are the Leavers' Assemblies in Church. It is always an emotional moment when a child comes to the end of their time in First School, and moves on to the next stage of their education.
This term there will be the added pathos of saying farewell to two important members of staff. Mrs Antonia Gwynn has been Head Teacher at Shipham for twelve or so years. Mrs Sarah Dibb has been Deputy Head at Axbridge for many years (as well as a time when she was Acting Head), and before that was a class teacher. Both are retiring this time, and both have given fantastic service to the profession, and to generations of children and families in our communities. With the myriad of changes in education in recent years, they have managed to maintain teaching and enthusiasm and commitment of a consistently high quality. There will be opportunities to say appropriate thanks to them both.
A great teacher is worth their weight in gold, and their influence often stays with a person throughout their lifetime. Years later most of us can remember our earliest school days and the important lessons we learned then.
Much is said and written about what should be in the national curriculum, but I particularly like a piece, which describes some of those hidden qualities and values, which gradually seep into a child and help to form the adults our children become. It is called "Children learn what they live".
If children live with criticism, they learn to condemn.
If children live with hostility, they learn to fight.
If children live with fear, they learn to be apprehensive.
If children live with pity, they learn to feel sorry for themselves.
If children live with ridicule, they learn to feel shy.
If children live with jealousy, they learn to feel envy.
If children live with shame, they learn to feel guilty.
But…
If children live with encouragement, they learn confidence.
If children live with tolerance, they learn patience.
If children live with praise, they learn appreciation.
If children live with acceptance, they learn to love.
If children live with approval, they learn to like themselves.
If children live with recognition, they learn it is good to have a goal.
If children live with sharing, they learn generosity.
If children live with honesty, they learn truthfulness.
If children live with fairness, they learn justice.
If children live with kindness and consideration, they learn respect.
If children live with security, they learn to have faith in themselves and in those about them.
If children live with friendliness, they learn that the world is a good place to live.
May our children and grandchildren have the best start that we can give. May Mrs Dibb and Mrs Gwynn enjoy their retirement, and may the rest of our teachers have chance to re-charge their batteries for the year ahead!
---
We ran out of space on this page so some of the earlier thoughts were moved to Old Thoughts... so you can still enjoy them.
Last Updated by AG 29 October 2017